St. Peter St. Water Main Replacement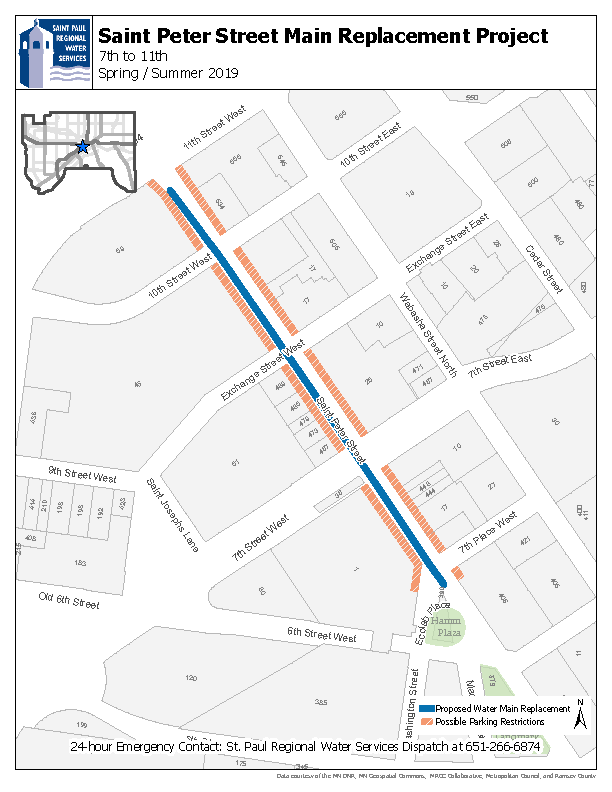 The original cast iron water main within the project area was installed in 1895. It has suffered repeated breaks over the years and has exceeded its useful life. 
SPRWS crews along with Quam Construction Co. will replace the existing 6" cast iron water main with 8" HDPE pipe via a trenchless method called pipe bursting.
This work is being coordinated in advance of mill and overlay improvements planned to be completed by St. Paul Public Works in 2020.
Project Scope:
Replace 1,400 ft. – 6" water main

Replace valves and hydrants

Restore street pavement as needed
Impact
We anticipate this stretch of the work (between 7th Pl. and Exchange) to last until late May or early June.
Impacts to traffic and parking begin Wednesday night on April 17.
Traffic
Traffic control will be set up on St. Peter from 7th Place to Exchange St.
Traffic on St. Peter will be reduced to a single lane.
Westbound 7th St. will be reduced from two through lanes to one at the St. Peter intersection.
Parking
Parking on both sides of the street will be prohibited, except for deliveries.
Pedestrians
The pedestrian crossing at 7th Place will be closed.
Pedestrians may cross the street at 6th St. or 7th St. while the work is being done.
Project Updates
Thursday, June 20, 2019
Restoration of the pit on the north side of 7th Street is underway. The 7th Street crosswalk is expected to be reopened by Saturday, June 22nd.
On Monday, June 24th, the eastbound lanes of 10th street from Dorothy Day Place to Wabasha will be closed for up to 5 days in order to allow for valves to be installed in front of the St. Joe's main entrance and on the west side of the 10th/St. Peter intersection. Normal traffic lanes will be restored by the end of next week.
We expect to be complete with work between 7th St. and 10th St. by July 4th. Work will continue from 10th to 11th.
Thursday, June 13, 2019
Work at the intersection of 10th and St. Peter will require a closure of eastbound and westbound traffic on 10th Street tonight from 5 pm to midnight. St. Peter Street will remain open to traffic with a detour provided for 10th Street traffic.
New water main pipe will be pulled in tonight from 10th Street to 7th Street. Crews will begin reconnecting service connections next week and getting ready to flush and test the new main. We expect to be complete with this section of the project by July 4th after which point we will be continuing north from 10th Street to 11th Street.