Mayor Melvin Carter Invites Saint Paul Residents to Imagine Our City Through Seven Community Conversations in February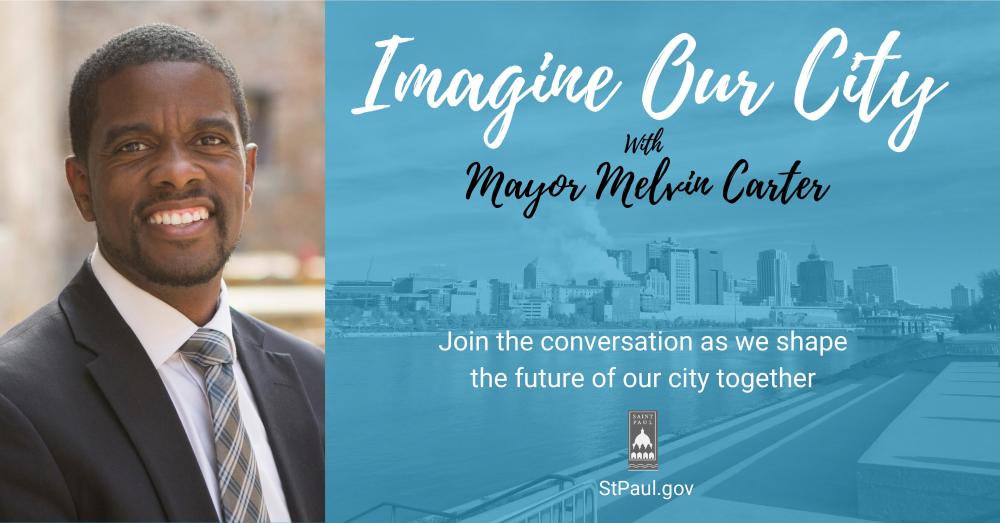 FOR IMMEDIATE RELEASE
January 25, 2018
Contact: Liz Xiong
liz.xiong@ci.stpaul.mn.us
651-357-8448
SAINT PAUL, MN - Today, Mayor Melvin Carter announced a series of 7 community conversations called "Imagine Our City" to be held in  February, ahead of the State of Our City Summit in March.
"In 2018, we achieved a big vision we built with residents from across Saint Paul," said Mayor Melvin Carter. "I am thrilled to continue the conversation with our neighbors and local businesses and invite everyone to join us as we imagine the future of our city together."     
Residents are encouraged to join these community conversations to offer their perspectives on the opportunities and challenges they face. 
Attendees will also have the opportunity to learn about new City initiatives, including:
Serve Saint Paul, an initiative to connect residents to civic volunteering opportunities to serve their community.
The newly established Office of Financial Empowerment, which will enhance community wealth building by connecting residents to financial resources and services, leading the work of the College Savings Account Program, and driving fair housing policies. 
Free tax preparation and support from local providers to assist residents in determining tax credit eligibility and filing.
The "Imagine Our City" series is presented by the Office of Mayor Melvin Carter in collaboration with area district councils and community organizations. The dates, times, and locations are here:
Thursday, February 7 6:00 PM - 7:30 PM Krungthep Thai
Monday, February 11 5:30 PM - 7:00 PM Hmong Village
Tuesday, February 12 5:30 PM - 7:00 PM Boca Chica | Restaurante Mexicano & Cantina
Saturday, February 16 10:00 AM - 11:30 AM Tapestry Restaurant
Saturday, February 16 1:00 PM - 2:30 PM Snelling Café
Thursday, February 21 5:30 PM - 7:00 PM Ho Ho Gourmet
Saturday, February 23 1:00 PM - 2:30 PM Plum's Neighborhood Bar & Grill
Full details can be found at: https://www.stpaul.gov/imagine-our-city