FOR IMMEDIATE RELEASE:
December 13, 2022
CONTACT:
Crystal King
crystal.king@ci.stpaul.mn.us
651-266-6654
 
JB Vang Partners, Inc. to be Recommended as Tentative Developer of Former Hamm's Brewery Complex
A selection committee comprised of staff from several City departments will be recommending JB Vang Partners, Inc. as the tentative developer for the original Hamm's Brewery Complex following an extensive request for proposals (RFP) and review process.
JB Vang is an experienced, Saint Paul-based developer of housing, commercial and historic rehab projects. Their proposal most closely aligned with the RFP review criteria and the vision of the Housing and Redevelopment Authority (HRA) to create an East Side anchor development.
Specifically, the JB Vang plan proposes:
259 affordable housing units, with one- and two-bedroom rentals and ownership live/work studios in the renovated brewery complex and family-sized ownership rowhomes and rental apartments in a new construction building;

56,000 square feet of commercial space, including a two-story marketplace in the former brewhouse; and

An outdoor public plaza, indoor community space and greenspace adjacent to Swede Hollow Park and Bruce Vento Trail.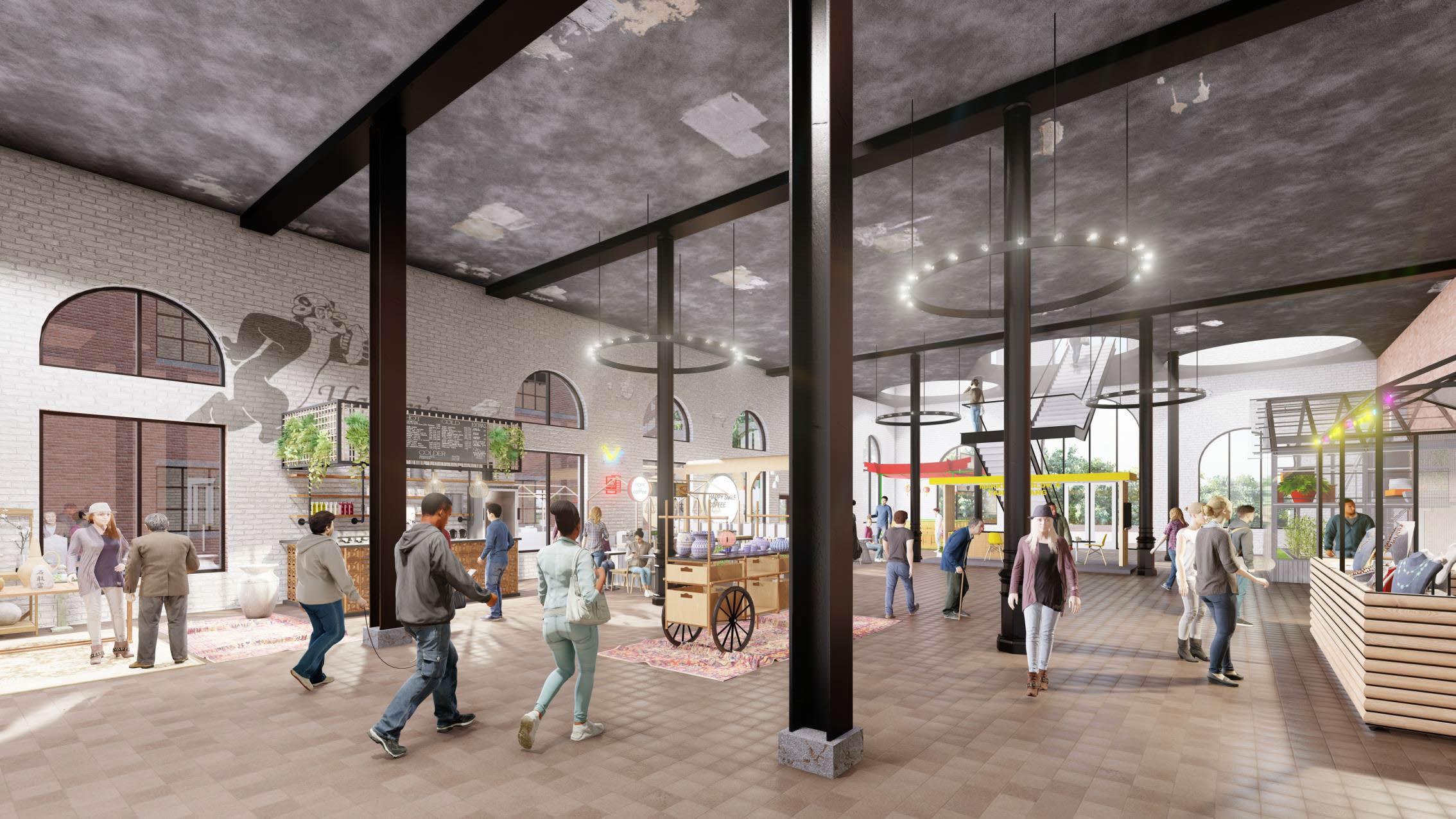 The proposal from JB Vang considered the cultural and economic needs of the neighborhood and offered the largest number and greatest variety of affordable housing types and a balance of residential and commercial uses. Multiple opportunities for wealth building through homeownership and entrepreneurship are also part of the plan.
"This development combines affordable housing with mixed-use opportunities, providing residents and entrepreneurs the ability for future ownership," said Mayor Melvin Carter. "We are revitalizing a historically significant part of our City while engaging our residents throughout the decision-making process."
"I am thrilled to see the Hamm's Brewery reimagined in a proposal that celebrates its history and strives to serve the cultural and economic needs of the surrounding community. This once-in-a-generation opportunity can provide needed affordable housing for Saint Paul and serve as a catalyst for the burgeoning Payne-Phalen neighborhood," said HRA Chair Chris Tolbert. "JB Vang is an experienced developer of affordable housing and has a history of undertaking complex projects that will move Saint Paul forward."
"The redevelopment of the historic Hamm's Brewery is a landmark project for Saint Paul's East Side that will enable this site to again serve as a hub of vibrant community activity," said Ward 7 City Councilmember Jane Prince. "This project will restore what was once the beating heart of the East Side and create a thriving, vibrant destination in our neighborhood. Additionally, this location connects Payne and Arcade's popular business districts that are undergoing their own successful revitalization efforts."
"There couldn't be a better choice for master developer than JB Vang Partners, who have an exceptional track record of housing, commercial and institutional development throughout Minnesota," continued Councilmember Prince. "Company principal Kou Vang, who is well known to East Siders as a community leader, delivered a proposal that listened to this neighborhood and reflected back our diverse multicultural community's values and aspirations."
"JB Vang is excited that the City shares our vision of what the Hamm's site could become—we envision bringing affordable family-friendly housing, creative artist housing, row houses, live/work housing and a vibrant multi-cultural marketplace integrated with Swede Hollow Park," said J. Kou Vang, President and CEO of JB Vang.
"From the beginning, the Hamm's site has always been an anchor for the many communities that have passed through and called the East Side home. We are honored to have the opportunity to return this site to its place of prominence in the neighborhood," shared Vang. "JB Vang looks forward to working with the community, stakeholders, elected officials and City staff on this project that will honor Hamm's history as well as reflect the diversity of the community that calls the East Side home today."
"We feel our proposal was an important first step in responding to the comments received during our initial conversations with area residents," said Justin Fincher, Vice President of Development at JB Vang Partners, Inc. "JB Vang was able to capitalize on addressing these needs by surrounding ourselves with market leaders in the design, development, and construction industries."
The initial development proposal included Pope Design Group as architect, the Landon Group as affordable housing consultant, Weis Builders as general contractor and New History as historical consultant.
"We strongly believe the success of this project will rely on our ability to establish strong and deep-rooted partnerships within our project team and the surrounding community," continued Fincher. "We are beyond excited about forming these partnerships and creating an end-product that most effectively acknowledges the wants and needs in this diverse community."
The Housing and Redevelopment Authority will vote on officially awarding tentative developer status to JB Vang Partners in January 2023.