Our City, Our Budget Series Event #6
Date:
Saturday July 28, 2018 -

1:00 PM

to

2:30 PM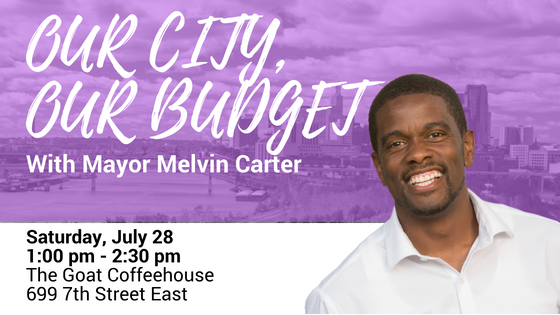 Mayor Melvin Carter will deliver the 2019 Budget Address on Thursday, August 9 at 6:00 PM at Washington Technology Magnet Middle School. Leading up to the address, residents are invited to attend Our City, Our Budget events across the city to help shape the 2019 budget priorities. 
Led by the City's Office of Financial Services, these events will feature games designed to give residents an understanding of the City's budget process and gather community input. These events are free and open to the public. 
For more information about the Our City, Our Budget series and the 2019 Budget Address, check online here: https://www.stpaul.gov/departments/mayors-office/our-city-our-budget-events-2019-budget-address. 
For questions contact Liz Xiong by email at liz.xiong@ci.stpaul.mn.us or call 651-357-8448.