About Ward 5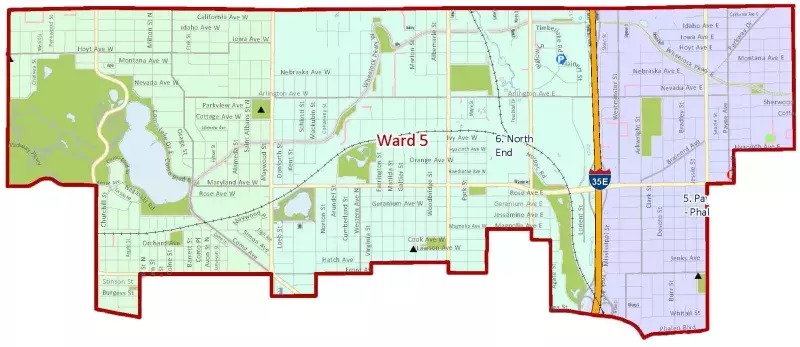 Ward 5 is located in the north-central part of the city and includes parts of the Como, North End, Payne-Phalen, and Railroad Island neighborhoods. The ward is bordered to the west by Lake Como and the world-class Como Park Zoo and Conservatory. Spanning east, Ward 5 encompasses Loeb Lake, the Rice Street business corridor, and the new Trout Brook Nature Preserve and extends past 35E to Edgerton Avenue. Ward 5 is one of the most diverse areas of the city and offers a variety of housing, recreation, and commercial opportunities for residents and visitors.
About Council President Brendmoen
Amy Brendmoen is the President of the Saint Paul City Council and has been in elected office since 2012. She came into public service by way of private sector at a local advertising agency, public sector as a mediator, and non-profit sector as a communications director. Amy is highly accessible to her constituents and seeks to enfranchise community members by building trust, sharing power, and providing consistent, clear communication. Her priorities in her role on the council include housing, economic development, people-centered engineering & planning, all viewed through a lens of promoting equity and opportunity. She is open-minded, thoughtful and believes that great ideas bloom from all places. Amy seeks opportunities to be outdoors and exploring with her husband and three teenage sons, both in the wonderful natural environment of Minnesota and in cities and places across the country and globe.
In her role, Amy serves on several commissions and boards: Saint Paul Housing and Redevelopment Authority; Saint Paul Library Board; Saint Paul Regional Water Services Board of Water Commissioners, Vice-Chair; Rush Line Corridor Commission and Policy Advisory Committee; Joint Property Tax Advisory Committee; League of Minnesota Cities.
Lake Laps
Council President Brendmoen offers "Lake Lap" walking meetings around Lake Como with constituents. Schedule a Lake Lap by emailing.
Ward 5 Updates
Keep in touch with your Ward 5 Council office and receive up-to-date information on issues and events affecting your neighborhood.