Sculpture Dedication at A Place To Be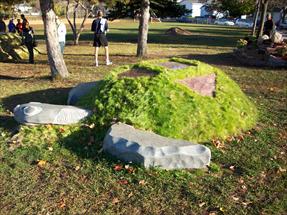 Sea Turtle Sculpture On October 27, people gathered at the Rice St. Recreation Center to dedicate three sculptures designed by environmental sculptor Lourdes Cue. The sculptures were completed by Ms. Cue and a group of teens enrolled in a program throughout the spring and summer. The three sculptures of a polar bear, a leatherback sea turtle and a camel, are made of earth, grass and salvaged granite. The program was sponsored in partnership with Ward 5, Public Art Saint Paul, the Saint Paul Department of Parks and Recreation and the District 6 Neighborhood Council, among many others. Funding from Public Art Saint Paul and a Saint Paul Cultural STAR grant brought the project to life. Special thanks to the teens who put so much time and effort into the project. Your hard work shows! View the pictures from the dedication.
Rice Street Art Scoop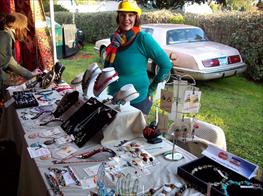 One of the artists showing jewelry at the Art Scoop Art, music and ice cream joined forces at the third Art Scoop on October 8 at Dar's Double Scoop. Local artists displayed their wares and kids took part in creative activities, including painting pumpkins. Although the weather was chilly, people enjoyed some great food and ice cream with their art. See the pictures.
Upcoming and Ongoing Events
Central Police Team Neighborhood Meetings take place the second Monday of each month at the Rice Street Recreation Center from 6:30-8:00 pm. Eastern Police Team Neighborhood Meetings take place at the Payne/Minnehaha Police Office on the third Tuesday at 9:30 am and 6:30 pm.  Western Police Team Neighborhood Meetings take place at the Western District Patrol Office at 389 N. Hamline Ave. on the 3rd Tuesday of each month at 9:30 am and 6:30 pm. Movie nights at Arlington Hills Lutheran Church at Jessamine/Greenbrier. Free movies and popcorn the first and third Friday of each month from 6-9 pm.