Overview
The Saint Paul Emergency Medical Services (EMS) Academy is an intensive, tuition-free emergency medical technician (EMT) certification and firefighter awareness program designed for low-income, underrepresented  and women residents of Saint Paul between the ages of 18-24.
Participants earn an hourly wage during the training, which lasts 240 hours over 10-14 weeks. Recruitment is targeted to youth of diverse ethnicity, linguistic ability, and cultural experience, with the goal of building an EMS workforce reflective of Saint Paul's communities.
Upon completing the EMS Academy, graduates earn National EMT certification, and job competency training. To date, over 200 diverse young adults of Saint Paul have completed the EMS Academy.
To learn more about the EMS Academy, view our promotional video. 
The EMS Academy is a collaboration between the  Saint Paul Fire Department (SPFD), Saint Paul Department Saint Paul Parks and Recreation Youth Jobs Corps (YJC), Saint Paul Public Schools (SPPS)  Hubbs Center, and  Community Action Partnership of Ramsey and Washington Counties (CAPRW). Hi Way Federal Credit Union (financial literacy) 
Join the EMS Academy
Applications for the summer 2019 St. Paul EMS Academy! We will be accepting applications  April 1, 2019 - May 3, 2019.
Interviews will be held May 14th   2019.
Orientation will be held on June 6th 2019.
Academy Class dates are June 10th - August 23th 2019.
Class will be held Mondays, Wednesdays, and Fridays from 8:30am to 4:30pm
Attendance each of the scheduled days, is mandatory for the duration of the 11 week academy.
Graduation will be August 26, 2019
Requirements:
-You must be a resident of the  City of Saint Paul
-You must have a government issued picture identification
-You must meet the income guidelines
-You must be between the ages of 18 and 24. Applicants must be 18 years old before June 10, 2019, but no older than 24 years by August 23, 2019
-You must have a high school diploma or G.E.D.
EMS Academy Graduation
Congratulations to the Summer 2018 EMS Academy graduating class! 
Additional Information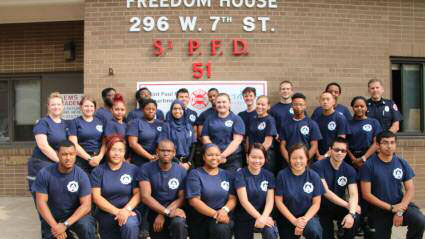 EMS Academy
Like us on Facebook.