Como Lake Shoreline Restoration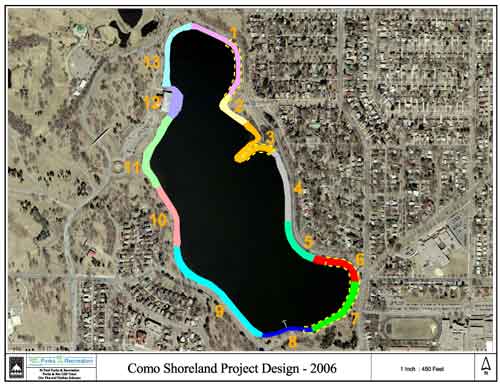 Native plants around the shoreline perform many valuable roles. They provide habitat and food for countless birds, insects, small mammals, fish, frogs, aquatic invertebrates and turtles.
The plants at the edge of the shoreline and those that stick up out of the water are especially important to the aquatic ecosystem. They provide food, in the form of seeds, and shelter for waterfowl. They also provide shade and protection to the aquatic invertebrates and fish that waterfowl eat.
In addition to playing the important role of offering habitat to the animals at Lake Como, the native plants also stabilize the soil and reduce the effects of nutrient loading. Their deep roots hold the soil and keep it from eroding. In the daily process of taking in nutrients from the soil, the plants reduce the amount of nutrients, including phosphorous and nitrogen, in the water and soil. For more information on nutrient loading, runoff, and algal blooms, see our FAQ (link to FAQ page, algal bloom section)
The Como Lake Shoreline Restoration could not have happened without community partners and many hundreds of volunteers.
Volunteers helped plant thousands of seedlings, and community partners, including the Minnesota Conservation Corps, donned boots and waders and were instrumental in planting thousands of aquatic plant seedlings.
Thank you to everyone who has been involved in this invaluable restoration project!