Crosby Farm Floodplain Restoration
Crosby Farm Regional Park is located in the southwest corner of Saint Paul alongside the Mississippi River. At about 730 acres, Crosby Farm is the largest natural area in the city. It is also a significant natural area within the State of Minnesota Mississippi River Critical Area Corridor and the Mississippi National River and Recreation Area (MNRRA).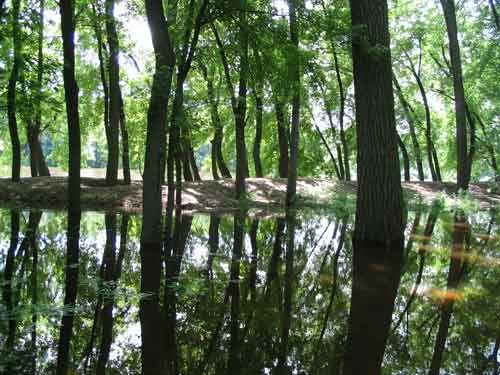 In 1858, Thomas Crosby established a 160 acre farm at the southwest end of the park. He and his successors raised cattle, dairy cows, and other livestock as well as potatoes and apples. In 1962, the farm came under management of the City of Saint Paul and was opened as a public park, and by 1970, the cultivated fields on the floodplain began to revert back to a forest. Aerial photos of Crosby in 1940 and again in 2006 can be viewed here.
In 2005, Saint Paul Parks and Recreation, in partnership with local nonprofit Great River Greening, began a major floodplain forest restoration project to replant formerly cultivated areas of the floodplain. Although, by 1970, trees were filling in the areas that were farmed, it was only a few species of trees that were coming back. These areas were a poor habitat for wildlife because of the lack of tree diversity. The aim of the replanting is to accelerate the conversion of disturbed box-elder forest to diverse, native floodplain forest land, substantially improving the quality and quantity of the park's wildlife habitat.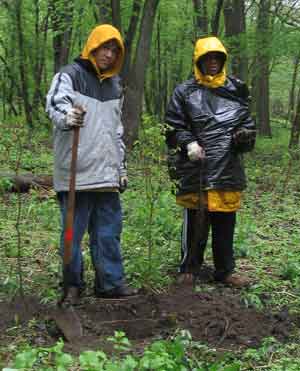 In 2006, pockets of box-elder trees were removed from the park. Later, in the spring, almost 500 high school students from the Admission Possible program braved cold rain and temperatures to plant 6,000 trees and shrubs representing different 16 species. Great work Admission Possible volunteers!
You can access Great River Greening's Crosby Farm Regional Park Ecological Inventory and Restoration Management Plan for more information.