Volunteer Events Calendar
Restore! Events at Bruce Vento Nature Sanctuary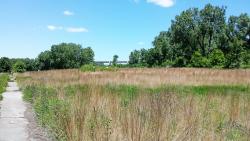 We are holding drop-in events to assist in restoration of Bruce Vento Nature Sanctuary. No experience is necessary- this is a great activity for anyone who wants to get outside, explore a new park and learn about restoring our natural areas. 
Registration: Help us determine the amount of supplies we need to bring each week. 
Who: Individuals or small groups. If accommodations are needed please let us know.
Why: Our nature sanctuary's are home to a diverse native prairie plant community. Volunteers play a huge role in restoring this park's native habitat. They help us control invasive species such as crown vetch, bird's foot trefoil, spotted knapweed and musk thistle constantly threaten the integrity of the native plant community! Explore a new park, give back to the community, be outside and meet awesome people!
Meeting Location: Bruce Vento Nature Sanctuary (293 Commercial St, Saint Paul 55106). CLICK HERE for a map of the meeting location.  
What to Bring: All tools will be provided. We ask that you bring full water bottles, wear long pants and closed toed-shoes. Please dress for the weather. 
Questions: email Tricia at environment@ci.stpaul.mn.us
---
Seed Squad Drop-In Events
Who: Individuals or small groups. All ages are welcome, but may be best suited for ages 10 and up. Must be able to navigate uneven terrain. 
What: Harvest native seed from some of our highest quality natural areas. The collected seed will later be sown and/or propagated and planted to increase diversity for wildlife and pollinators. These volunteer events are drop-in style, so you are not obligated to stay the entire time. Come to as many or as few events as you would like. No experience necessary. 
Where/When:
Registration: Pre-registration is appreciated. Please register here.