Youth Commission
Welcome to the Saint Paul Youth Commission!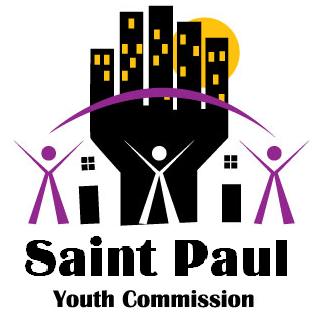 The place where Saint Paul Youth: Stand Up… Speak Up… LEAD! The Saint Paul Youth Commission is the place for young people in Saint Paul to have a voice at City Hall! Youth Commissioners practice youth adult partnership with other Saint Paul youth, city officials, and community organizations to solve community issues and make Saint Paul the most livable city in America. Youth Commissioners do this by leading community action projects and by acting as a YouthBank, distributing funds to support youth-led projects. The Youth Commission is made up of 22 youth from neighborhoods across Saint Paul.
Youth Commissioners…
Tackle serious issues that Saint Paul youth face! They design innovative solutions and work with youth and adults to make the solutions happen
Make key decisions about YouthBank grant themes and decide which projects to support
Help ensure that all youth in Saint Paul have places to get involved, learn, play and make a difference in their community
Impact citywide policies and meet government representatives
Strengthen their leadership skills and ensure strong youth voice in Saint Paul!
Young people are leaders today. If you want to make a difference, you better be at the table – join us now and see what we can do by working together!
How can I join the city-wide Youth Commission?
The Youth Commission has 22 citywide members. There is at least one position reserved for youth in each Saint Paul neighborhood and 5 at-large positions. Each May, the Youth Commission recruits new members. Applications are due June 1, 2018 and interviews are held in July. Newly selected commissions start each August by attending the annual Saint Paul Youth Commission Orientation.
To be a part of the city-wide youth commission you must:
Live in the City of Saint Paul
Be in 9th - 12th grade while serving on the commission.
Commit 6-10 hours a month and be available to meet on Monday nights.
Have the desire to make Saint Paul the best city to grow up in!
What is YouthBank?
The Youth Commission partnered with Youthprise in 2015-2016 to be a pilot YouthBank site. The Youth Commission distributed $9,500 this year, and will distribute an additional $30,000 over the next two years.
YouthBank is a youth-led grant making organization, or program within a host organization, that channels money into projects that will improve the quality of life of local communities. It is also a process and way of working with young grant makers that encourages and trains them as they develop essential life skills as well as increase their employability capabilities. Local YouthBanks are run by young people for young people wherever they are. YouthBank is unique in that it puts money directly into the hands of young people who decide on how it will be spent. YouthBank grant making committees set themes, create application procedures and criteria, undertake publicity work, interview young people, write reports to assist decision making and engage in the follow up work to learn from what has or has not worked.
In 2015-16, the Youth Commission set grant themes of LGBTQIA+ education and empowerment, racial equity, and immigration. They supported two projects with a total of $9,500:
BOAT (Building Our Alliances Together): In this project, participants came together over spring break to build a kayak in partnership with Urban Boatbuilders, and attended youth-led social justice workshops
The Binder Project: Youth leaders bought and distributed binders to transmales so that they could safely bind their breasts.
Past Youth Commission Projects Include:
Conducting a study on teen access to transit by giving bus passes to high school students. Commissioners presented to the Met Council, the Mayor's Educational Leadership Team, and the SPPS School Board.
Preventing bullying at Arlington Hills Community Center by teaching peer mediation, organizing a spoken word event with Brother Ali and Guante, and funding spoken word workshops in partnership with TruArtSpeaks
Educating peers about sex trafficking by organizing a youth-led conference for 80 teens and youth workers at Washington Tech High School.
Opening the Canvas at Hancock Recreation Center. The Canvas is the city's only Arts-based Teen Center and is run by teens, for teens!
Opening the Doorway, a college access and resource center at Sunray Library and Dayton's Bluff Recreation Center
Informing Saint Paul youth and families about environmentally friendly cleaning supplies
Leading a community mapping project in the Dayton's Bluff neighborhood
Advocating at the state legislature for circulator buses, transportation so youth can get to after-school and summer activities.
Advocating at the state legislature to pass a Youth Homelessness Act, which would raise funding for unaccompanied youth in Minnesota from 11 cents a youth to $4.50 a youth.