What is the study looking at?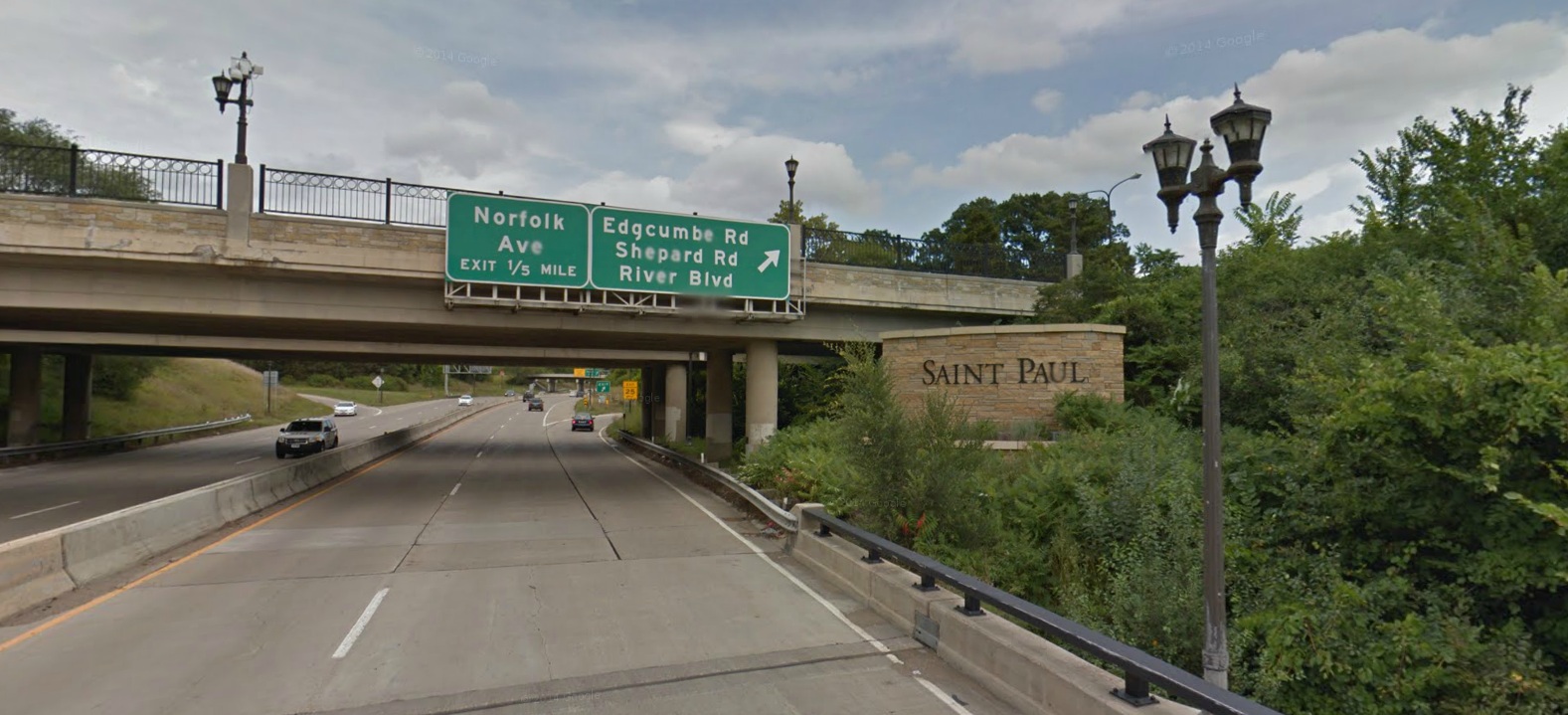 Thousands of people enter Saint Paul from the southwest over the Highway 5 bridge every day. This fast-moving traffic flows directly onto West 7th Street, creating a hostile pedestrian environment and a barrier bisecting the community.
Shepard Road is currently operating below capacity, while West 7th is nearly above capacity. To achieve a more pedestrian-friendly West 7th, this study will look at potential realignments of the connection between the Highway 5 bridge, West 7th Street, Shepard Road and the other streets in that vicinity. This includes potential reconstructions of intersections and local roads as well, including Norfolk, Edgecumbe and Gannon in the immediate vicinity. This engineering feasibility study will use the guidelines developed in the Great River Passage Plan for Shepard Road (http://www.greatriverpassage.org/).
The ideal outcome would include: improved pedestrian conditions and access both along and across West 7th Street; a redesigned Shepard Road as a parkway-like facility; and a balance of traffic between Shepard Road and West 7th Street, creating a more connected community with better access to jobs, services, park facilities and the river. Click here for more detail on the study.
What roadway changes are under consideration?
The Technical Advisory Committee and the Community Advisory Group have recommended that four potential roadway changes be studied in greater detail, to be compared to the existing conditions. The existing roadways as well as these four options will be reviewed using evaluation criteria based on the project purpose and goals, which were approved by the Community Advisory Group on May 26, 2015:
Study Purpose
Increasing traffic volumes and future development pressure have led to this study to determine if potential changes to the Highway 5 and Shepard Road interchange will provide more balanced traffic volumes between West 7th and Shepard Road, while enhancing the community feel of the neighborhood.
Study Goals
Create a more efficient balance of traffic, transit, bicycle and pedestrian mobility within the community
Improve safety within the community
Preserve neighborhood connectivity and minimize impacts to the community
Foster community and business growth and development
Nine Alignment Alternatives
The Project team, including City staff and the consulting team, put together nine roadway change alternatives. The Technical Advisory Committee (TAC), including staff from the City, Ramsey County, MnDOT, the Met Council and Metro Transit, recommended that five of those alternatives be studied in more detail as "finalists." The Community Advisory Group (CAG) recommended one of those options be removed, and so four alternatives will be moving forward for traffic modeling, and reviewed for how well they meet the above goals.
Alternatives 4, 5, 6, and 9, as well as the no-build scenario (or existing conditions) will undergo additional study and will be evaluated according to how well they meet the goals of the study.
Why is the City studying this now?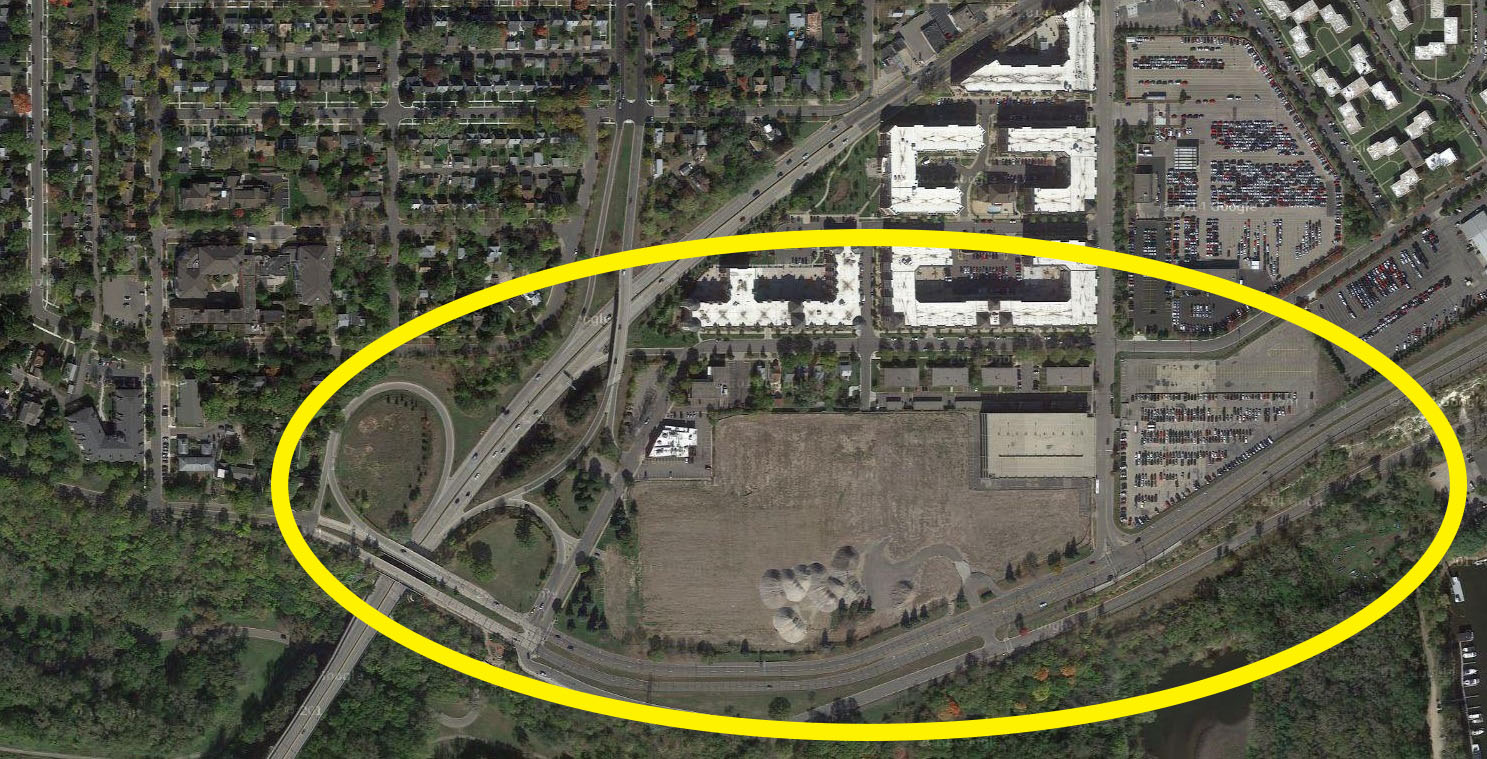 The Highland Park neighborhood is seeing a surge in redevelopment activity that will take place in the coming months and years, from the former US Bank site along Shepard Road all the way up to the former Ford plant site. Local stakeholders have discussed potential traffic realignments between West 7th and Shepard Road for many years. This study is timed to examine this alignment to anticipate these changes, rather than to react once redevelopment has occurred.
The section of West 7th adjacent to the intersection with Davern is extremely challenging for pedestrians. A community task force that worked on the recent update to the Shepard Davern Area Plan reaffirmed this issue. The Access Options Study's goal is to improve poor pedestrian environment here, and to make West 7th less of a barrier.
The Great River Passage Plan made a recommendation to improve this portion of Shepard Road as well, to design it with parkway-like features. This Access Options Study will incorporate those design features into any potential redesign of Shepard Road and its connections.
Study Timeline and Upcoming Events
Tentative timeline
Project advertised March 2014
Consulting team led by SRF selected June 2014
Traffic data collected through fall 2014
Traffic modeling being completed through early 2015
Community Open House held in April
Conceptual designs being developed, to be reviewed by technical and community committees in spring and summer 2015, incorporating open house input
Technical and Community committees to recommend a preferred alternative in summer 2015, and open house held to review with broader community
Formal public review and comment to take place summer 2015
February 9, 2015: The Transportation Committee recommended initiation of the study, and formation of the Community Advisory Group to the Planning Commission. The Planning Commission will be acting on this recommendation at their February 27 meeting. The memo and recommended Planning Commission resolution can be found here.
February 10, 2015: Planning staff briefed the Highland District Council on the study status, the proposed Community Advisory Group, and the planning process.
February 27, 2015: Planning Commission to hear Transportation Committee recommendation to initiate the study.
March 2015: Preliminary meeting held, introducing Community Advisory Group members and Technical Advisory Committee members. April 23, 2015: Open House, 6:30-8pm at the Jewish Community Center, 1375 Saint Paul Avenue Open House Presentation Open House Summary May 26 2015, Community Advisory Group meeting, open to the public 6:00-7:30pm at the Jewish Community Center, 1375 Saint Paul Avenue
Upcoming Events
CAG meetings TBD
Open House #2 TBD
How can I learn more and get involved?
The Transportation and Capital Planning Division of the Department of Public Works is leading this study. For more information, contact Mark Finken at Mark.Finken@ci.stpaul.mn.us. or 651-266-6165. For information about the Community Advisory Group or Planning Commission process, contact Josh Williams at.
Open houses, community meetings, and online forums are being organized throughout this study.
What will happen next?
The recommendation that results from this study will help inform the pattern of development in this area, and will be included in the results of the Riverview Corridor study of transit alternatives. Additional design and engineering work would need to be completed before any changes would be able to take place. If street reconstructions and other construction projects are recommended, funding will have to be found. No funding for any potential construction has been identified.
What else is happening in this neighborhood?
MnDOT is reconstructing the Highway 5 bridge deck over the Mississippi River between Saint Paul and Fort Snelling. The two-year project will begin April 13, 2015 and run through fall 2016, weather permitting. During that time the Highway 5 bridge will be reduced to one lane in both directions. The project also includes repair work on Edgcumbe Road and both Shepard Road/Mississippi River Boulevard bridges over Highway 5 / West 7th Street. In addition, crews will resurface and repair concrete on a portion of Hwy 5 between the Mississippi River and Munster Avenue. For more information or to sign up for project email updates, visit: www.dot.state.mn.us/metro/projects/hwy5/
The Ramsey County Regional Rail Authority is leading the Riverview Corridor Study to research, analyze and identify opportunities to improve transit between downtown Saint Paul, the MSP Airport and Mall of America, and the Ford redevelopment site. The study is scheduled for completion in late 2015 and will involve reviewing the viability of transit modes, transit location, engineering issues, community needs and preferences, and estimated costs. For more information visit: www.riverviewcorridor.com
The City of Saint Paul is leading key urban design and planning activities at the former Ford Twin Cities Assembly Plant site, to position the site for future redevelopment. These activities include zoning research and analysis; evaluating employment potential; studying the potential role of renewable energy resources and technologies; and addressing multi-modal transportation needs. For more information visit: http://stpaul.gov/21stcenturycommunity
A task force of residents and business representatives, along with City staff, recently completed work on the Shepard Davern Area Plan and Zoning Study. The plan makes recommendations for redevelopment, parks investments, and improvements to streets and sidewalks. The zoning study recommends changing zoning districts for much of the site to help achieve the community group's vision. This work was presented to the City Council in early 2015.
The Great River Passage Master Plan is a parks system plan following Saint Paul's 17 miles of Mississippi River riverfront. Developed with hundreds of hours of citizen input, the Great River Passage vision is based on three principles - to be more natural, more urban and more connected. The master plan sets the stage for the manifestation of sustainable parks and open spaces, ecological restoration and economic development, connecting the City, its neighborhoods and people, to Saint Paul's unique Mississippi River resources. For more information visit: http://www.greatriverpassage.org/