Snelling Avenue South Zoning Study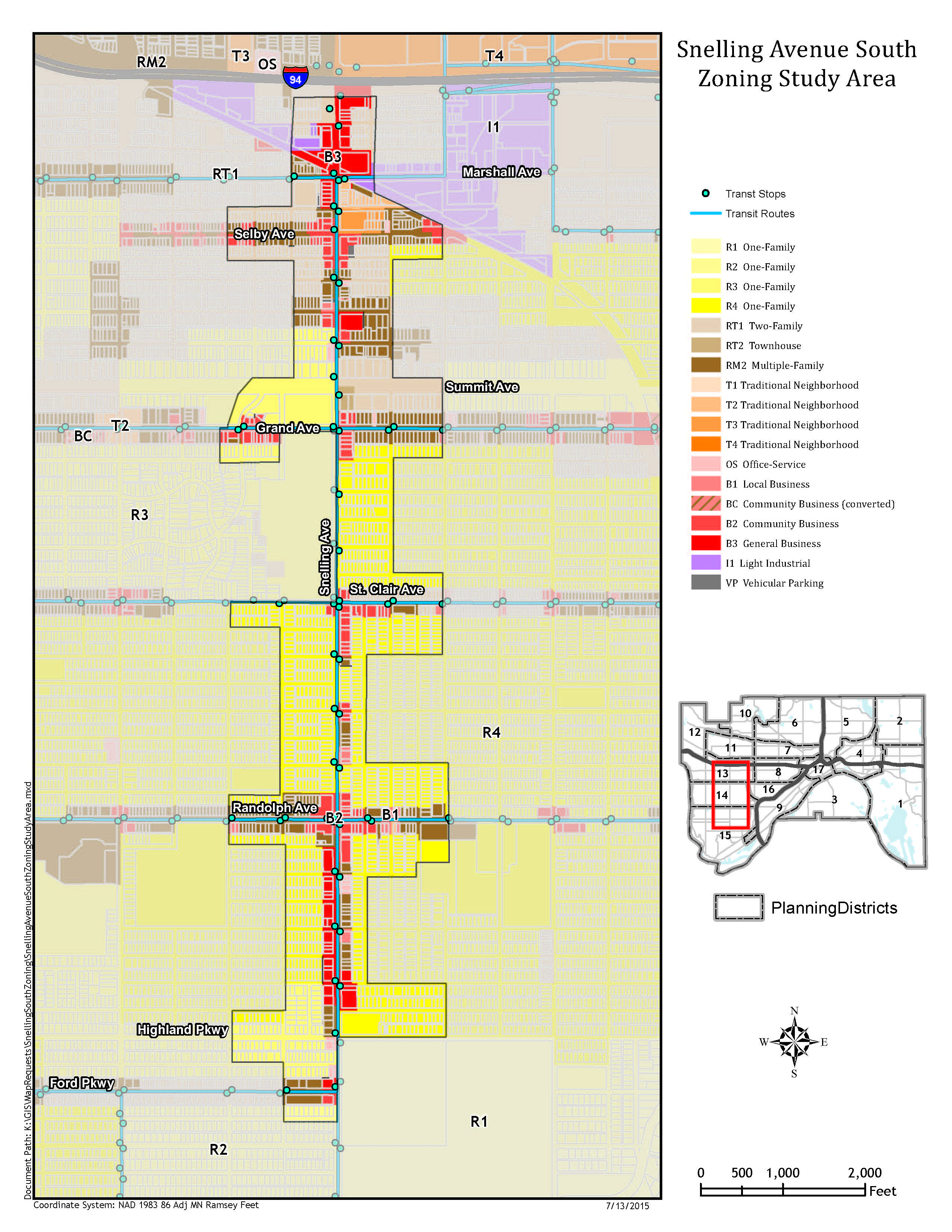 Cities, including the City of Saint Paul, use zoning to regulate land use and scale of development. Zoning studies are a formal review of existing zoning districts within a defined area to determine if new zoning for some parcels would be appropriate. The goal is to optimize zoning for both existing uses and for development and investment consistent with the City's Comprehensive Plan and with applicable area plans such as neighborhood plans.
In July 2015, the Saint Paul Planning Commission initiated the Snelling Avenue South Zoning Study. The study was initiated in anticipation of the opening of the A-Line Bus Rapid Transit (BRT) on Snelling Avenue (service began in June 2016) and in response to strategies included in the adopted Macalester-Groveland, Highland, and Union Park district councils' neighborhood plans. 
The study area includes the blocks along Snelling Avenue South between I-94 and Ford Parkway as well as the blocks along Selby Avenue, Grand Avenue, St. Clair Avenue, Randolph Avenue, and Highland Parkway within 1/4 mile of Snelling Avenue. Not all properties within the study area will be recommended for rezoning.
Process
The initial process for the Zoning Study has included staff and consultation with the community and Planning Commission. The formal review of the Zoning Study includes several steps:
The Planning Commission, based on a recommendation from the neighborhood planning committee, released the study for public review and set a public hearing date for May 19th, 2017. The Planning Commission will accept written and spoken comments on the study's recommendations. Written comments are accepted any time after the study is formally released for public review, and spoken comments are taken at the public hearing. The study and comments will then be referred back to the neighborhood planning committee.
Based on comments received, the committee may make changes to the study's recommendations. This portion of the process usually takes at least a month. Once the committee has finalized the study, it is sent back to the full Planning Commission, with a recommendation as to whether or not any zoning changes should be implemented.
The full Planning Commission then votes on the recommendation, which is sent on to the City Council for consideration. If the City Council decides to consider zoning changes, a second public hearing is held before the City Council. Once the City Council has approved the final recommendations the new zoning ordinance goes to the Mayor for final signature.
A projected timeline for the Snelling Avenue South Zoning Study is shown below. Depending on input received, the zoning study may take longer.
Community Meetings
Community meetings and public hearings will take place throughout this study. See below for a list of upcoming and past meetings.
Upcoming Meetings
The first public hearing will be held on Friday, May 19th, 2017, at 8:30 a.m. in City Hall, Room 40, 15 West Kellogg Boulevard, Saint Paul, 55102. 
Neighborhood Planning Committee information: Memo and maps
Past Meetings
June 10, 2015: Neighborhood Planning Committee
Saint Paul Planning Commission
July 10, 2015: Saint Paul Planning Commission
July 22, 2015: Land Use Committee
Macalester Groveland Community Council 
October 4, 2016: Public information meeting
Jointly hosted by the City and the Highland District Council, Macalester Groveland Community Council, and Union Park District Council
Meeting Presentation Materials
Existing Conditions and Potential Rezonings
Study Area
Snelling and Highland Parkway
Snelling and Randolph
Snelling and St. Clair
Snelling and Grand
Snelling and Dayton
Zoning Comparisons and Background Information
R4 one-family residential to T1 traditional neighborhood
RM2 multifamily residential to T2 traditional neighborhood
B2 community business to T2 traditional neighborhood
B3 general business to T2 traditional neighborhood
B3 general business to T3 traditional neighborhood
Traffic and Transit
2030 Land Use
Union Park District Council
October 17, 6:30 PM
Epsicopal Homes
1860 University Avenue
Julie@unionparkdc.org
651.645.6768
Highland District Council
October 18, 6:30 PM
Highland Park Community Center
1978 Ford Parkway
info@highlanddistrictcouncil.org
651.695.4005
Mac-Groveland Community Council
October 26, 6:30 PM
Groveland Recreation Center
2021 St. Clair Avenue
liz@macgrove.org
651.695.4000