Summit Avenue Bridge
* Construction Update for week of 1/13/2020 *
Site activities include drilling foundations and forming and pouring abutment concrete.  Road closures and detours will remain in their current configuration until late February or early March 2020, while crews focus on constructing the new bridge substructures (pier and abutments):
The central pier and east abutment salvage and incorporate large stone blocks that are original to the 1880s railroad bridge.  There is also a large-diameter tunnel located beneath the bridge that carries storm water runoff to the Mississippi River (over 9 feet in diameter).  To protect these vulnerable features from damage, the pier and east abutment will be supported on drilled shafts.  Large drilling equipment will bore a hole down through the earth and into the underlying bedrock.  A steel rebar cage will be lowered into the hole, and it will then be filled with concrete.  This type of foundation produces much less vibration and noise than pile driving, but takes longer and is more costly.  Drilled shaft installation is ongoing.
The new west abutment is under construction.  Buried footings (bases) have been poured, and crews are now working on the abutment stems (walls).
The new central pier and east abutment will be built behind existing stone walls.  The new bridge beams will then "fly over" the existing stone walls to be supported by these hidden structures.  Crews are starting to place formwork for the central pier and east abutment.
Progress Photos
November 4, 2019: First day of demolition.  Crews work as snow and sleet falls, breaking the concrete deck down onto Ayd Mill Road.  Concrete produced in demolition will be hauled to a crusher for re-use as aggregate; steel will be melted and recycled.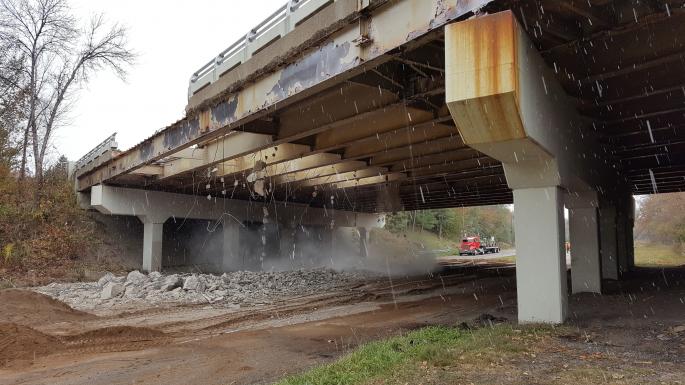 November 11, 2019: Demolition continues.  Concrete debris is cleared from west abutment (foreground).  In the background, a crane lifts off steel beams while an excavator removes deck slabs.  Bridge deck over the railroad is cut into large pieces (slabs) to prevent damaging stones that date to the 1897 bridge.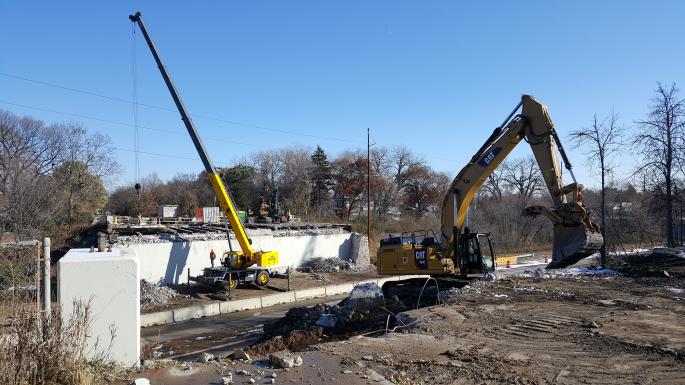 November 22, 2019: Demolition nearly complete.  A crane prepares to lift and remove the final steel girder from above the rail tracks.  To meet current railway standards, the new bridge beams will provide an additional 3 feet of clearance over the railroad tracks.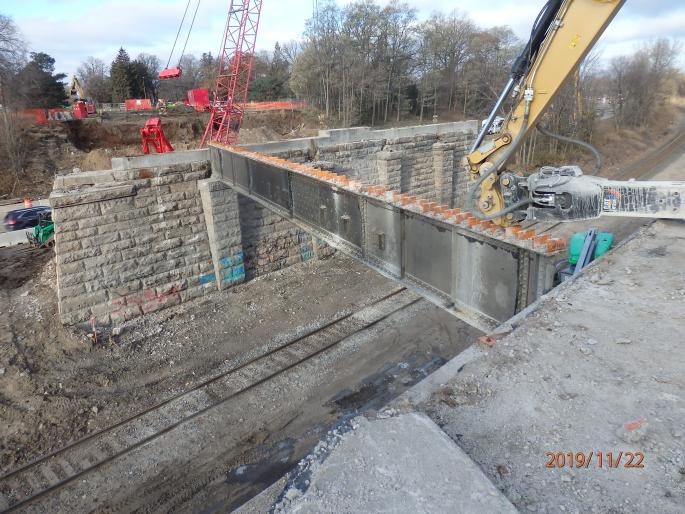 December 2, 2019: Soils are excavated and hauled out behind the west abutment.  Ayd Mill Road has been reduced to one lane in each direction underneath the bridge, providing a protected work space for worker and equipment access.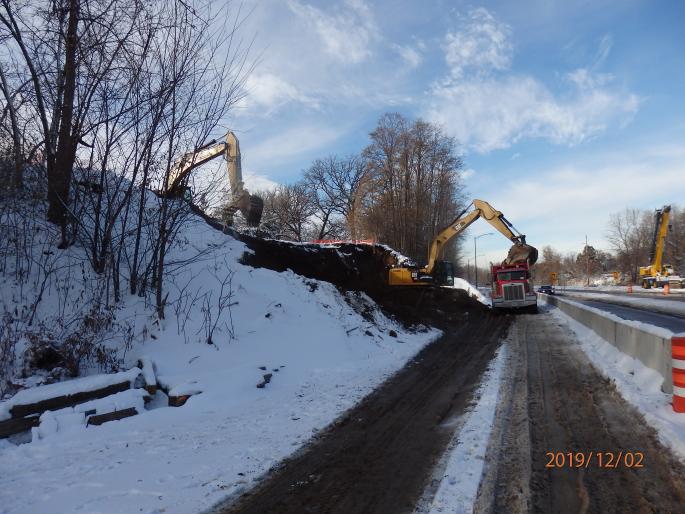 December 9, 2019: The first steel pile is driven into the ground to support the west bridge abutment.  The pile are being driven to the shale bedrock, which is located around 25 feet below the elevation of Ayd Mill Road.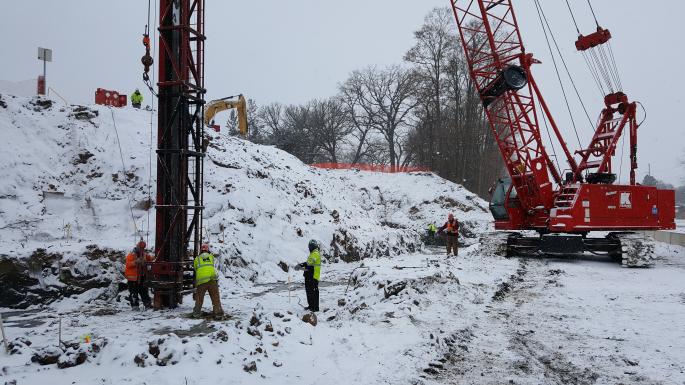 December 19, 2019: A rotary drill rig drills 30-inch diameter shafts into the ground around 30 feet.  A rebar cage is inserted into the hole and it is filled with concrete.  The finished shafts will provide a solid support for the east abutment and central pier.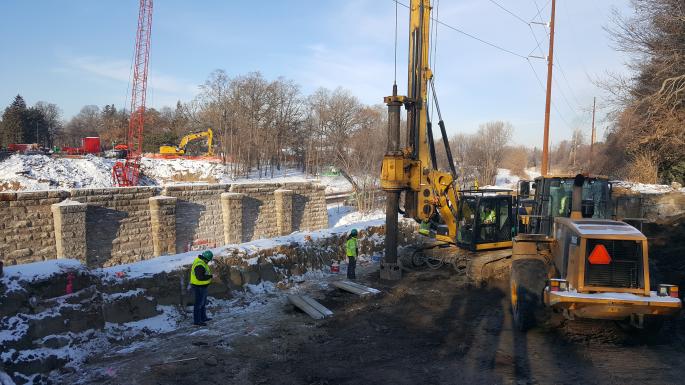 January 8, 2020: Crews tie steel bar reinforcement that will be poured into the concrete for the west abutment stem wall.  Steel rebar gives the concrete wall the tensile strength required to resist bending and shearing forces.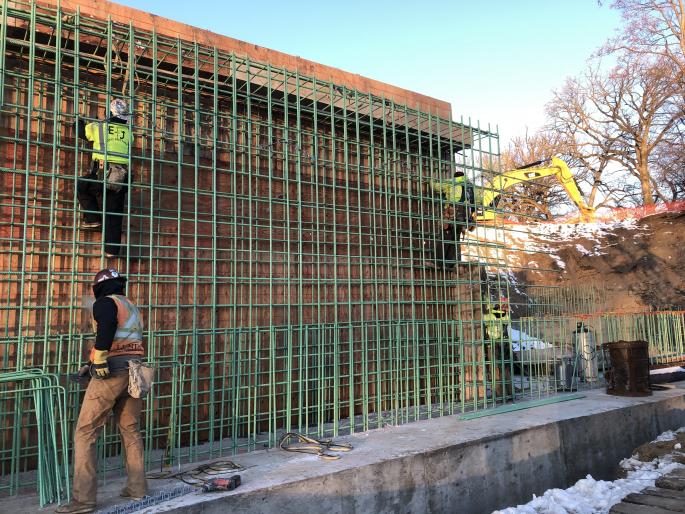 Project Background
Summit Avenue Bridge spans over Ayd Mill Road and the Canadian Pacific Railroad.  The bridge and approach roadways will be reconstructed in 2019 and 2020.  The new bridge is scheduled to reopen by October 1, 2020.
The first bridge at this location dated to the late 1800s, presumably built to span over the "Short Line" Railroad.  Little is known about this first structure, except that in 1897 accounts label it as a "narrow and unslightly wooden bridge which...disfigured the avenue."  That same year, the wooden bridge was replaced by an "iron bridge 100 feet wide" and with massive stone abutments.  That bridge structure was modified and augmented in 1962 to span over Ayd Mill Road, which was envisioned to be a highway connection between I-94 and I-35E.  The function and future of Ayd Mill Road has been debated ever since.  However, as it relates to the Summit Avenue bridge, modern bridge beam technology allowed us to design a long single span over the Ayd Mill corridor, thus avoiding impacts to any future plan for Ayd Mill, whatever that may be.

Fall 2019
TC Marathon (October 6, 2019)
Install detours, protections - lane closures on Ayd Mill Road
Demo existing bridge
Winter-Spring 2020
Construct new abutments, pier, and walls
Set beams, form and pour deck
Backfill abutments and stabilize slopes
Summer 2020
Complete bridge items: sidewalk, railing, lighting
Reconstruct roads, utilities, storm water system
Re-open Summit Avenue by end of September
Detour Maps: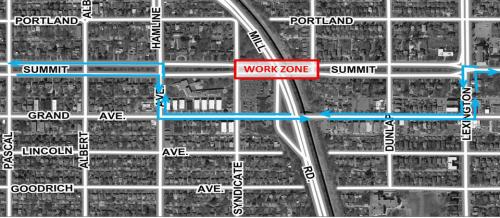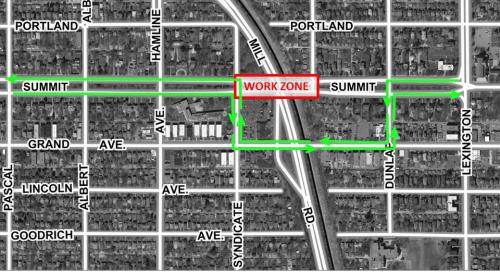 Past Community Meetings
The first community meeting for the Summit Avenue Bridge Project was held on Thursday, April 13, 2017 at the Saint Paul Police Department, Western District.  
The second community meeting was held on Monday, August 28, 2017 at the bridge location.  This open house format event was paired with the "Pop Up Meeting" process, a cooperative program between the City and Public Art Saint Paul that seeks to engage community involvement in urban planning.
A community open house was held on Wednesday, February 27, 2019 at the Saint Paul Police Department, Western District.  
Open House Presentation Slides
** Construction Update September 24, 2019 ** - The attached notice was mailed to area residents and business owners.
Ayd Mill Road
For work zone safety, equipment and contractor access, Ayd Mill Road will be restricted to one northbound lane and one southbound lane during bridge work.  Ayd Mill Road will be closed and detoured for short durations during critical work activities, such as bridge demolition and setting beams. Traffic delays can be expected.
The recently proposed project to add bike and pedestrian infrastructure on Ayd Mill Road does not change the design and construction of the new Summit Avenue Bridge. 
As a part of the Ayd Mill Road project, Public Works is reviewing access and accessibility at all existing intersections along Ayd Mill Road.
Grand Avenue Parking
Parking is allowed on both the north and south sides of Grand Avenue between the Ayd Mill bridge and Dunlap Street.  The parking lane on the north side is between the temporary bike lanes and the westbound driving lane. See vehicle detour map below for location and photo of parking lane.