Summit Avenue Bridge

Background
Summit Avenue Bridge spans over Ayd Mill Road and Canadian Pacific Railroad.  The bridge and approach roadways will be reconstructed around the year 2019.  Project design will occur in 2017 and 2018.
The first bridge at this location was built in 1897 to span over the Short Line Railroad.  Most of the existing bridge structure was constructed with the development of Ayd Mill Road in 1962.  
Proposed Design and Anticipated Construction Schedule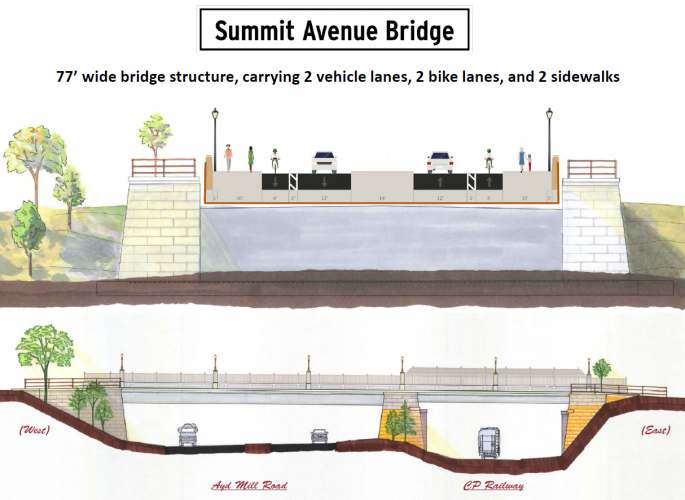 Fall 2019
TC Marathon (October 6, 2019)
Install detours, protections
Demo existing bridge
Winter-Spring 2020
Construct new abutments, pier, and walls
Set beams, form and pour deck
Backfill abutments and stabilize slopes
Summer 2020
Complete bridge items: sidewalk, railing, lighting
Reconstruct roads, utilities, storm water system
Re-open Summit Avenue by end of September
Detour Maps:
Past Community Meetings
The first community meeting for the Summit Avenue Bridge Project was held on Thursday, April 13, 2017 at the Saint Paul Police Department, Western District.  
The second community meeting was held on Monday, August 28, 2017 at the bridge location.  This open house format event was paired with the "Pop Up Meeting" process, a cooperative program between the City and Public Art Saint Paul that seeks to engage community involvement in urban planning.
A community open house was held on Wednesday, February 27, 2019 at the Saint Paul Police Department, Western District.  
Open House Presentation Slides