Summit Avenue Bridge

* Construction Update for week of 11/4/2019 *
Bridge demolition began on Monday, November 4.  Summit Avenue and Ayd Mill Road closures and detours will be in effect during bridge demolition.  
Click to read the City's media advisory about the bridge closure.
Parking on Grand Avenue between Ayd Mill bridge and Dunlap Street
Parking is allowed on both the north and south sides of Grand Avenue between the Ayd Mill bridge and Dunlap Street.
The parking lane on the north side is between the temporary bike lanes and the westbound driving lane. See vehicle detour map below for location and photo of parking lane.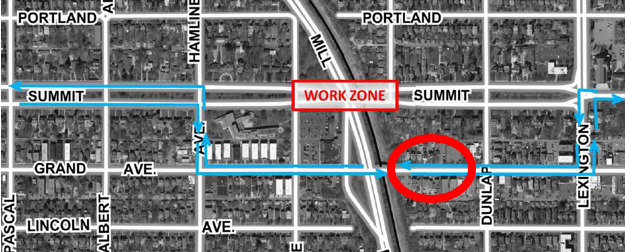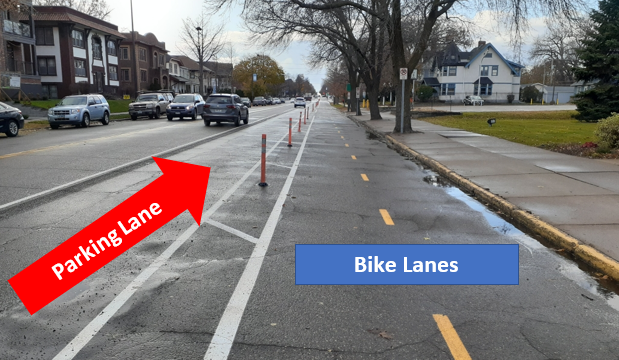 Background
Summit Avenue Bridge spans over Ayd Mill Road and the Canadian Pacific Railroad.  The bridge and approach roadways will be reconstructed in 2019 and 2020.
The new bridge is scheduled to reopen by October 1, 2020.
The first bridge at this location was built in 1897 to span over the Short Line Railroad.  Most of the existing bridge structure was constructed with the development of Ayd Mill Road in 1962.  
Proposed Design and Anticipated Construction Schedule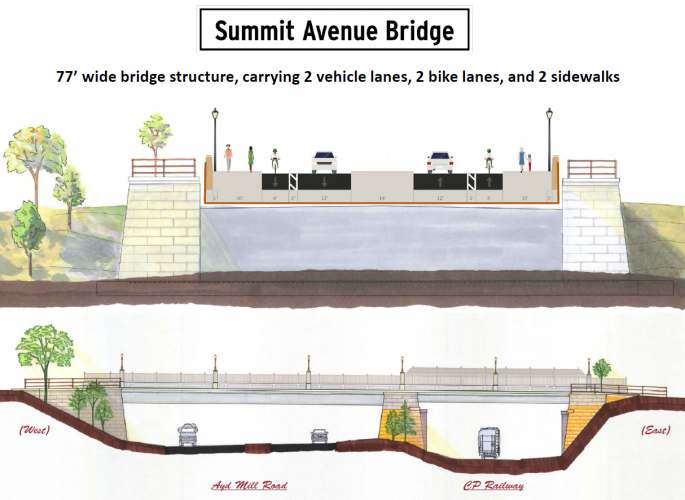 Fall 2019
TC Marathon (October 6, 2019)
Install detours, protections - lane closures on Ayd Mill Road
Demo existing bridge
Winter-Spring 2020
Construct new abutments, pier, and walls
Set beams, form and pour deck
Backfill abutments and stabilize slopes
Summer 2020
Complete bridge items: sidewalk, railing, lighting
Reconstruct roads, utilities, storm water system
Re-open Summit Avenue by end of September
Detour Maps: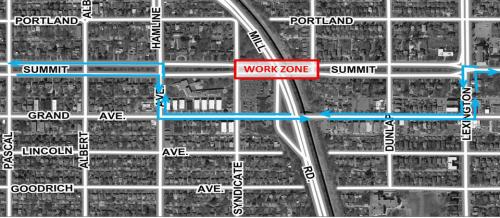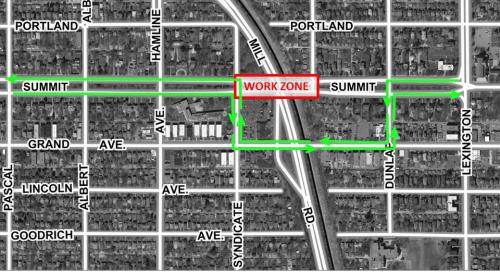 Past Community Meetings
The first community meeting for the Summit Avenue Bridge Project was held on Thursday, April 13, 2017 at the Saint Paul Police Department, Western District.  
The second community meeting was held on Monday, August 28, 2017 at the bridge location.  This open house format event was paired with the "Pop Up Meeting" process, a cooperative program between the City and Public Art Saint Paul that seeks to engage community involvement in urban planning.
A community open house was held on Wednesday, February 27, 2019 at the Saint Paul Police Department, Western District.  
Open House Presentation Slides
** Construction Update September 24, 2019 ** - The attached notice was mailed to area residents and business owners.
Ayd Mill Road
For work zone safety, equipment and contractor access, Ayd Mill Road will be restricted to one northbound lane and one southbound lane during bridge work.  Ayd Mill Road will be closed and detoured for short durations during critical work activities, such as bridge demolition and setting beams. Traffic delays can be expected.
The recently proposed project to add bike and pedestrian infrastructure on Ayd Mill Road does not change the design and construction of the new Summit Avenue Bridge. 
As a part of the Ayd Mill Road project, Public Works is reviewing access and accessibility at all existing intersections along Ayd Mill Road.