Bulky Item Collection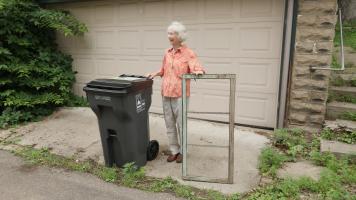 "Bulky" items are items that are too large to fit or are not allowed inside your garbage cart, such as furniture, appliances, and electronics. Bulky items do not include construction and demolition material. Please contact an appropriate disposal company to remove construction and demolition material from your property. 
Property owners can request to have bulky items collected from the household. Tenants should contact their landlord if they need to dispose of a bulky item.
Depending on your cart size, you can have 2 bulky items (small 35-gallon cart) or 3 bulky items (medium 64-gallon or large 96-gallon cart) collected each calendar year at no additional cost. If you need to get rid of more items, you can pay $10-$35 per bulky item (plus tax) to have them collected.
---
Bulky Item Collection Process
Contact your garbage hauler at least 48 hours before your regular garbage collection day. Your hauler will not pick up bulky items if they have not been scheduled. Find your hauler's contact information by using our interactive map.
Your hauler will tell you which day to put your bulky item out for collection. It may or may not be on your regular collection day.
Do not place bulky items inside your garbage cart.
Place bulky items beside your cart at your regular collection location.
Bulky items must be free of all food and liquids.
Your garbage hauler will track the number of bulky items collected from your property. Property owners can contact their hauler at any time to find out the number of free bulky items remaining for the rest of the year.
---
Additional Bulky Item Collection
If you have more than 2-3 large items to dispose of in a year, your garbage hauler will take them away for a nominal fee. Pricing of additional bulky item removal:
$10 (plus tax) per item: Baby car seat or booster seat, area rug (average 3 ft. by 5 ft.), small chair (dining room, desk, kitchen, stool, or high chair), children's toy (doll house, big wheel, etc.), additional holiday tree (after 1st free tree, up to 6 ft. tall), holiday tree taller than 6 ft., small door (bi-fold), small dresser (child's dresser or nightstand), small medicine cabinet mirror (no more than 3.5 ft. any dimension), small table (card or plastic), tire without rim (car or truck), toilet (without tank), vacuum cleaner, window screen.
$20 (plus tax) per item: Baby crib, fiberglass bathtub, small bed components (bed frame, headboard, or footboard), bicycle (child or adult), large chair (stuffed or recliner), small couch (non-sleeper or sectional piece), medium desk (wood or children's desk), medium door (screen, hollow interior, or shower door), large dresser, small electronic recyclables (keyboard, VCR, or DVD player), garage door opener (rails must be broken down), medium mirror (up to 6 ft. in length), small sink (kitchen or bathroom – single or pedestal), medium table (coffee or end table), tire with rim (car or truck), toilet (with tank), water softener (empty only), single pane window.
$35 (plus tax) per item: Appliances (washer, dryer, water heater, refrigerator, freezer, air conditioner, etc.), Cast iron bathtub (must be broken up), large bed components (mattress or box spring), carpeting (cut and rolled at 5 ft. max. length per room (average room size 12 ft. x 12 ft.)), large couch (love seat, hide-a-bed couch/frame (mattress is a separate item), or futon frame (mattress is a separate item), metal desk, large door (solid interior or exterior sliding glass – by piece), exercise equipment, electronic recyclables (TV under 27" or computer monitor), gas grill (no tank), lawn mower or snow blower (gas and oil must be drained), large mirror (any dimension larger than 6 ft.), large sink (bathroom vanity sink or non-concrete laundry tub), large table (kitchen or dining room), trampoline, large window (double/triple pane or larger).
$55 (plus tax) per item: TVs over 26", console TVs and rear projection TVs.