Arlington Avenue Bikeway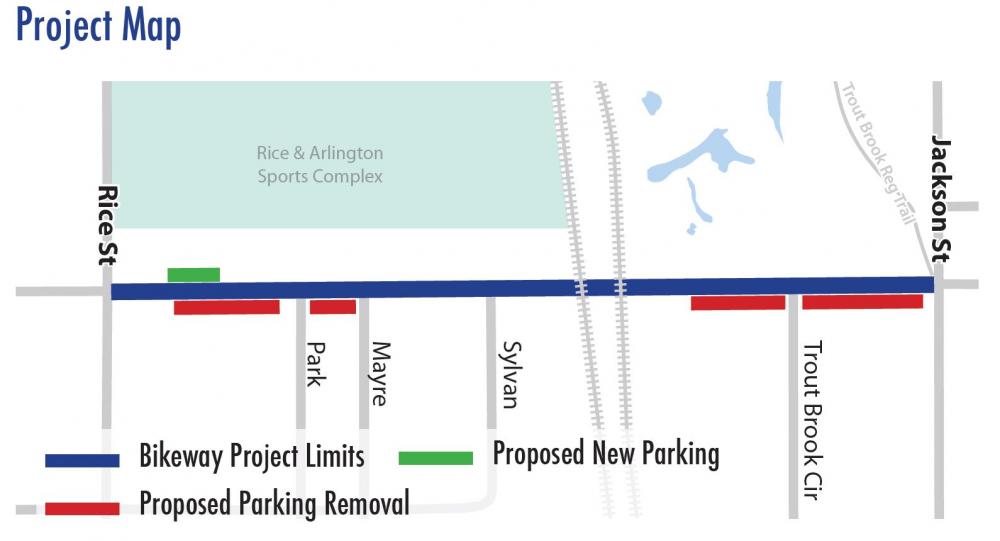 What is Proposed?
Saint Paul Public Works is planning to resurface Arlington Avenue between Rice Street and Jackson Street in 2018. The Saint Paul Bicycle Plan recommends in-street separated lanes within the project corridor, and Public Works is proposing to install bike lanes when the street is resurfaced.
Purpose
Adding bike lanes to Arlington Avenue between Rice and Jackson streets will make the street a safer and more comfortable place to ride a bike. Bike lanes will also encourage more predictable riding behavior by providing a dedicated place to ride on the street outside of the motorized travel lane.
Changes to On-Street Parking
There is currently parking on both sides of Arlington Avenue at many locations throughout the corridor. To add bike lanes, parking would need to be removed on one side of the road between Rice and Jackson Streets. Parking removal is proposed for the south side of Arlington between Rice and Jackson streets. To accommodate a lane shift, a small amount of parking is also proposed for removal on the north side of Arlington immediately west of Jackson Street.
Project Updates:
Upcoming Event: June 20, 2018
This project will be presented to the Saint Paul City Council on Wednesday, June 20. This will be a public hearing, and there will be an opportunity for public comment. The City Council will be asked to approve a resolution authorizing Public Works to install the proposed bicycle facilities Arlington Avenue.
What: City Council Public Hearing
When: 5:30 PM Wednesday, June 20th, 2018 
Where: City Council Chambers, 300 City Hall, 15 Kellogg Blvd, West, Saint Paul, MN 55102
May 8, 2018
A project meeting was held on Tuesday, May 8 at the McDonough Recreation Center to present information and receive feedback on the project. If you were not able to make it to the May 8 meeting, you may provide feedback on the proposal by emailing project staff at the addresses below: