Wabasha Bluff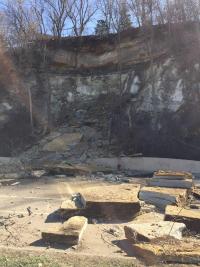 On April 30, Saint Paul Public Works began an assessment the Wabasha Bluff and surrounding area where a slope failure occurred on Saturday afternoon, April 28. Large pieces of rock debris from the bluff were scattered across Wabasha Street prompting the city to close the street and evaluate the condition of the bluff. There were no injuries or damage to private property.
Saturday evening, April 28, geologists from the Minnesota Department of Transportation conducted a preliminary assessment. On April 30, City of Saint Paul  hired Itasca Engineering to complete a full assessment of the bluff at that location.  Itasca will recommend an action plan to address:
Any immediate safety concerns;
Next steps for remediation and clean up; and
Future long-term mitigation efforts.
Wabasha Street - Findings Presentation
Week of June 18 (tentative):
Itasca will provide additional requested engineering and cost estimates to the City.
The City will continue area clean up efforts.
Week of June 11:
Itasca inspected one additional rock feature from the private property at the top of the bluff.
Itasca presented recommendation(s) to City officials. 
The City has requested additional engineering work and cost estimates before approving a final action plan. That work is expected to be completed next week.
Week of June 4:
Itasca inspected the bluff from the private property at the top, areas which were inaccessible from Wabasha street level.
City and Itasca coordinated with contractors regarding access, means and methods for removal of limestone blocks being considered for short-term actions.
City coordinated with property owners to author license agreements.
Week of May 28:
City of Saint Paul secured permission from private property owner to enter property to conduct additional assessment work from the top of the bluff.
City of Saint Paul is finalizing access agreements from neighboring properties.
Public Works is developing costs and timelines for potential remediation options to present to Mayor and city officials in the coming two weeks.
Public Works held a media briefing to share consultant's data and findings, along with some "working recommendations" needed in order to reopen Wabasha Street.
Week of May 21:
City staff completed records research and validated site survey data generated by the consultant, Itasca.
Itasca presented preliminary assessment findings to city officials. 
Itasca began to develop potential remediation options.
City staff developed a communications plan and procedure to keep local businesses and residents most affected by the slope failure and the resulting road closure informed.
Week of May 14: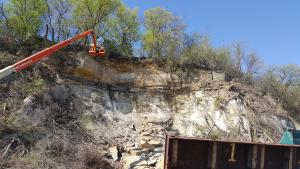 Contractors developed a system to monitor the bluff and installed associated survey equipment next to Wabasha Street. 
Contractors completed the initial field inspection of the bluff.  Geologists are analyzing the field records, in conjunction with survey data, to assess bluff stability.
Contractors are developing a series of alternative recommendations, to be presented to city officials next week.
Week of May 7:
Contractors continue to do assessments and inspections of the bluff. 
A full report and recommendations from the contractors are expected within a few weeks.
Week of April 30: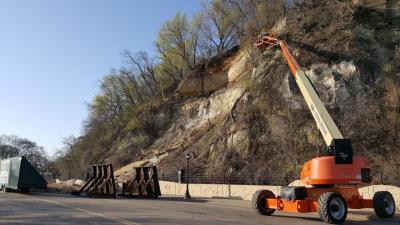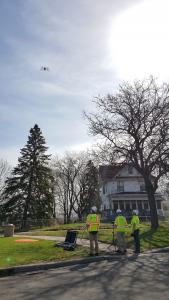 A second consulting firm, Collins Engineering, performed a detailed aerial survey of the failed slope and adjacent bluff.  Three-dimensional geospatial data was collected using drone technology. Large lift equipment allowed experts to do hands-on observations and assessments.
Public Works and the contractors installed several large pieces of equipment to allow crews to safely operate within the site, and protect the streets, property and persons should any loose debris fall from the bluff during this process.
A pedestrian and bike pathway was opened on the east side of Wabasha.
Traffic Impact
Wabasha Street is closed to vehicle traffic from Plato Boulevard to Cesar Chavez until further notice.