Holiday Tree Collection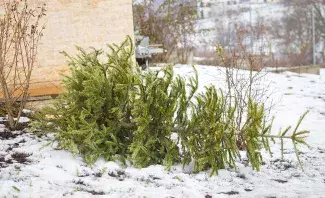 One live holiday tree is included in the Citywide Collection program between January 2 - January 15 each year. You do not need to call your hauler to schedule collection during this time period. Place your tree next to your garbage cart on your regular collection day. 
Artificial trees and live trees exceeding 6' and 20 pounds are not included, but may qualify for a bulky item pick-up or be collected for an additional fee if all bulky items have been used for the year. Contact your hauler for more information and to schedule pick-up. 
Prepare your Tree for Collection
Remove all decorations and the tree stand. Holiday lights can be recycled at local Saint Paul public libraries November 28, 2022 - January 20, 2023: location list.
Place the tree next to the garbage cart. Do not place upright in the snow or lean against your cart. Make sure the tree is not obstructing your carts.
Limit 1 seasonal tree per household (1 tree per unit for multi-unit properties).
You can also bring your holiday tree to a Ramsey County yard waste site for free. Click here to view collection site hours and locations.