Sewer Testing
Sewer Safety Testing (Smoke Testing)
We will begin conducting our yearly sewer systems safety tests on Tuesday, July 5 through the end of October north of University Ave. between Snelling Ave. and Rice St. As a part of this testing we will be injecting a simulated smoke into the sewer system to find leaks and faulty connections, which may need repair.  Finding the location and repairing these leaks is essential to the economical and safe functioning of our City's sewer system.  The test lasts approximately 30 minutes in each location.
The sewer safety test produces a simulated smoke, which may be seen coming from manhole covers, storm drains, roof vents, and building foundations. The simulated smoke is safe, but may cause some irritation. The simulated smoke will not enter your home if it is properly plumbed and fixture traps contain water.
The simulated smoke is not expected to enter residents' home in the impacted area, but if it does, residents are advised to not be alarmed. We recommend that you ventilate your home or business by opening doors and windows. The simulated smoke should clear out rapidly once the building is vented. If you see the simulated smoke you should notify the sewer safety testing crews by calling 651-238-0572.
All public safety authorities have been notified of the ongoing testing. We work hand in hand with the Fire Department on these operations. We want to make sure everyone is aware of the testing and safe. We also want to ensure the Fire Department isn't overwhelmed with false alarms due to residents not knowing about the testing.
Check out this map to find out if and when you will be impacted. We will be updating this page throughout the process to show the currently impacted and future impacted areas.
Need more information:
Get more in-depth information on Sewer Safety testing or call us at 651-238-0572. You can also follow us on twitter @stpaulpublicw for daily updates on the testing.

2016 Testing Information and Area Map
S.E.H, a contractor working for the Sewer Utility, will smoke test a portion of the City's sanitary sewer system. Please see the attached project area map and smoke testing notices that has been mailed to residents and property owners.
The following means of communication will be employed:
Initial Public Notice - By Mail (includes: Notice, and Project Area Map, see attachments)
Automated Phone Call to residents/property owners notifying them of the mailing and public informational meeting.
Public Info Meeting (open house) on Monday, June 20, Hamline Midway Library, 1558 W Minnehaha Avenue (4:00 to 7:00 p.m.
Door Hanger Placement (to be placed approximately two to three days before testing occurs).
Automated Phone Call - A second automated phone call is to be placed 24 to 48 hours prior to smoke testing work beginning. Also, close coordination with the St. Paul Fire Department is also essential to address the potential for false fire alarms. They will be updated on a regular basis.
The Smoke Testing Crew chief can be contacted @ 651-238-0572 if any simulated smoke is reported in a building.
Helpful Links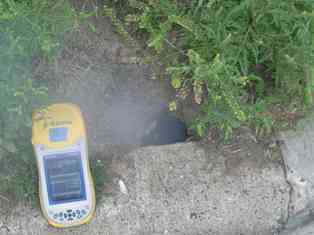 For further information on the LiquiSmoke product used in testing our sewers, as well as material testing results regarding exposure and health please visit:
Contact Information
For more information contact: Girma Daka at 651-266-6189 or Aaron Hass at 651-266-6171.