Cleveland-Villard Water Main Replacement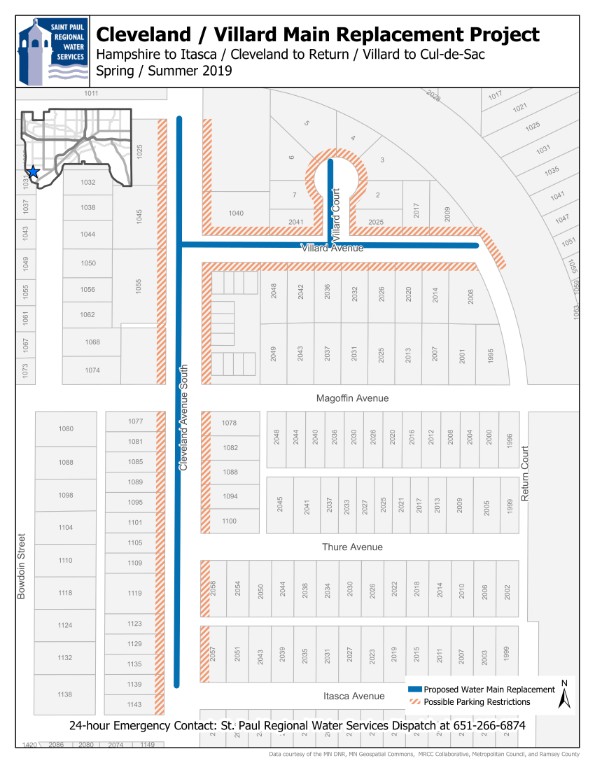 The original cast iron water main within the project area was installed in 1948, 1951, and 1955. It has exceeded its useful life and has been prioritized for replacement. SGP Contracting, Inc., under contract with SPRWS, will replace the existing cast iron water main with ductile iron pipe via open cut excavation.
This work is being coordinated in advance of mill and overlay improvements planned to be completed by St. Paul Public Works later this summer on Cleveland Ave.
Project Scope:
Replace 1,300 ft. – 16" water main
Replace 915 ft. – 6" water main
Replace valves and hydrants
Restore street pavement, curb, sidewalk as needed
Impact
Local access will be maintained
Non-local traffic may be detoured around the project area
Street parking will be restricted at times to allow for efficient traffic flow
Project Updates
Wednesday, July 10, 2019
Normal traffic has been restored on Cleveland Ave. Saint Paul Public Works will be completing a paving project on Cleveland Ave. in the near future. This work is not related to the completed SPRWS project.
Villard Ave. and Villard Ct. water main replacement work has been completed. Restoration work is in progress. Concrete curbing was placed today on both streets, and paving work has been tentatively scheduled for Friday, July 19th.
Normal traffic and access should be restored on Villard Ave. and Villard Ct. sometime around July 20th (weather dependent)
Wednesday, July 3, 2019
All water main work on Cleveland Ave. has been completed, and the roadway has been repaved. Traffic control signs will be removed today (7/3/2019), and the roadway should be opened to regular traffic by this afternoon.
All water main work has been completed on Villard Ave. and Villard Ct. The contractor is currently preparing the streets for paving activities. Regular traffic access will be restored as soon as possible after paving.
As we near the end of the project, SPRWS thanks residents of the area for their patience and cooperation during the water main replacement project.