Cleveland-Villard Water Main Replacement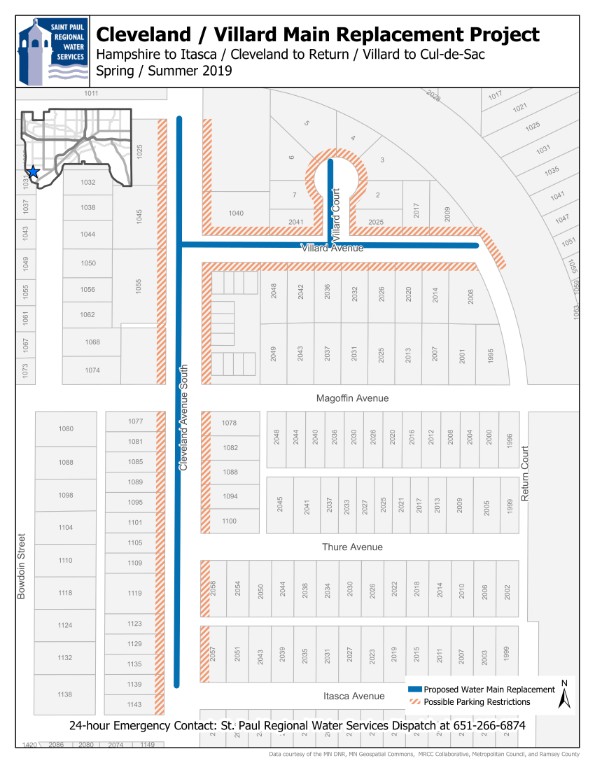 The original cast iron water main within the project area was installed in 1948, 1951, and 1955. It has exceeded its useful life and has been prioritized for replacement. SGP Contracting, Inc., under contract with SPRWS, will replace the existing cast iron water main with ductile iron pipe via open cut excavation.
This work is being coordinated in advance of mill and overlay improvements planned to be completed by St. Paul Public Works later this summer on Cleveland Ave.
Project Scope:
Replace 1,300 ft. – 16" water main
Replace 915 ft. – 6" water main
Replace valves and hydrants
Restore street pavement, curb, sidewalk as needed
Impact
Local access will be maintained
Non-local traffic may be detoured around the project area
Street parking will be restricted at times to allow for efficient traffic flow
Project Updates
Thursday, June 20, 2019
Water main work on Villard Ave. and Villard Ct. is nearing completion. SPRWS and the contractor are currently performing pressure and bacteria testing to ensure that the main was installed correctly and that no bacteria was introduced to the water main during construction.
Following passed pressure and bacteria tests, the contractor will begin tying services back in to the water main. Once your water service has been reconnected, SPRWS crews will generally need to access your home to turn the regular (non-temporary main) service back on. Crews will knock on doors to speak with residents and schedule this work.
Some portions of the roadway on Villard Ave. and Villard Ct. were damaged by the operation of heavy equipment on the street. These sections of roadway will be stripped and replaced in their entirety.
Paving work for Cleveland Ave, Villard Ave, and Villard Ct. is expected to take place on July 1st. During paving work, residents may have some difficulty accessing their driveway. More information will be shared prior to the start of paving.
Wednesday, June 12, 2019
Water main replacement work on Cleveland Avenue is nearing completion. The main has passed pressure and bacteria tests, and property services are being connected to the new water main.
Paving on Cleveland Avenue has been scheduled for July 1st
Water main replacement work on Villard Ave. has begun. During work on Villard Ave, some residents of Villard Ave and Villard Ct may have difficulty accessing their property as the trench may isolate their driveway from public roadways. SGP Contracting will provide notice to residents at least 24 hours in advance if the resident's access is expected to be limited.