McDonough Homes Water Main Replacement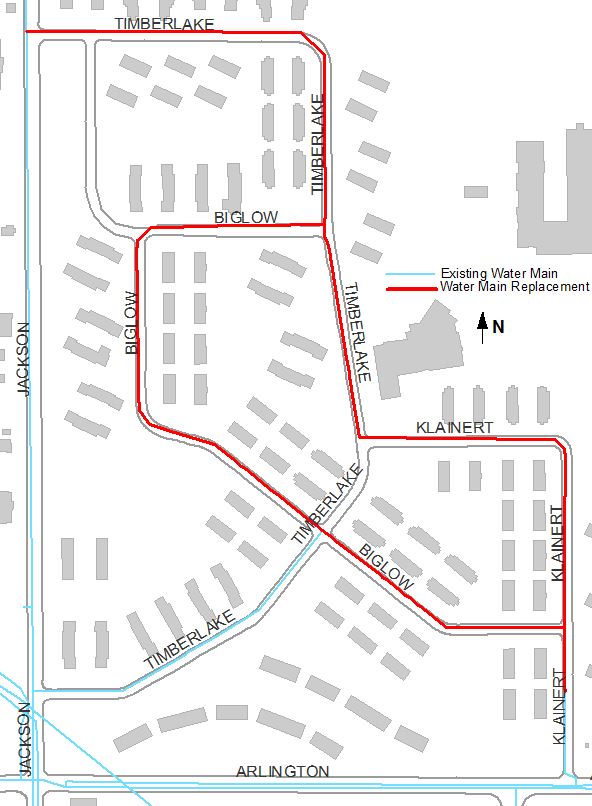 McDonough Homes Water Main Replacement
The water department will be replacing water main during a construction project planned to occur in the McDonough Homes community on Timberlake Road from Jackson Street to Klainert Street, on Klainert Street from Timberlake Road to Arlington Avenue, and on Biglow Lane from Timberlake Road to Klainert Street.
Work will begin in early April 2018 and be complete by late July 2018.
Impact
Work will begin in early April 2018 and be complete by late July 2018.

During Construction traffic will be diverted around work via lane shifts and lane reductions with the possibility of a change in traffic direction.

Signs will be posted indicating areas where street parking is prohibited.

There will be an impact to Metro Transit Bus route 68 and Saint Paul Public School busses. The water department is coordinating with both organizations to minimize the inconvenience.
Project Updates
Tuesday, May 22, 2018
All water main pipe will be installed by Thursday (5/24) on Klainert St.
After Memorial Day, crews will reconnect hydrants and service lines to the new main and then flush and test it prior to putting it back into service. This is anticipated to be completed by mid-June.
The work area has expanded to Timberlakd Rd. between Biglow and Klainert.
Parking will be limited and through traffic may need to drive around this area while work is active during the day.
Monday, April 30, 2018
Temporary water mains are currently being constructed south of the Recreation Center and should be completed by the end of the week. This work consists of assembling yellow piping above ground to serve as a temporary source of clean drinking water to homes while water main replacement work takes place.
Excavation and water main replacement work will begin the week of May 7 on Klainert St. This represents the first of five project phases. During construction normal bus routes and on street parking areas may be impacted:
Buses: St. Paul Public Schools will coordinate alternate bus stops with riders during construction.
Parking: No parking will be allowed on either side of Klainert St.
However, parking lot access along Klainert St. will remain open.
Pedestrians: Sidewalk routes for pedestrians will remain open during construction. We ask that pedestrians stay away from excavated pits and construction equipment in order to ensure their safety.