McDonough Homes Water Main Replacement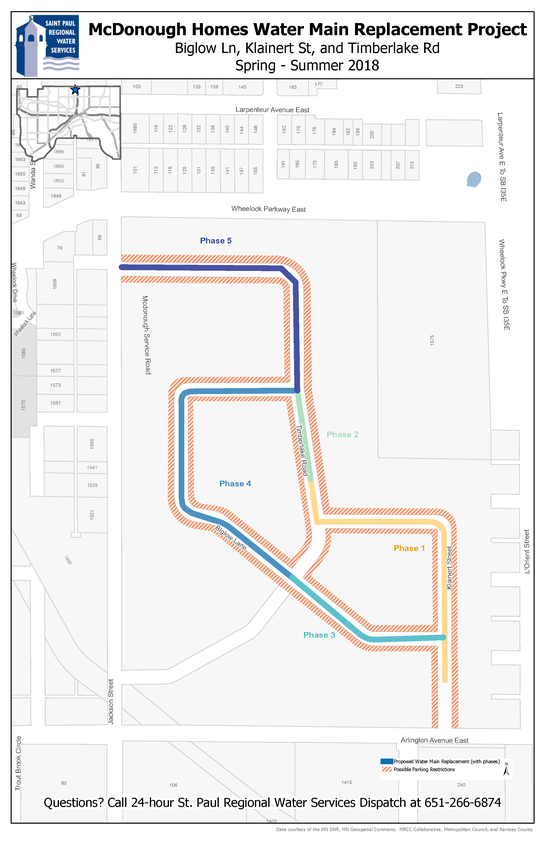 Project Map (PDF)
The water department will be replacing water main during a construction project planned to occur in the McDonough Homes community on Timberlake Road from Jackson Street to Klainert Street, on Klainert Street from Timberlake Road to Arlington Avenue, and on Biglow Lane from Timberlake Road to Klainert Street.
Impact
Work will begin in early April 2018 and be complete by September 2018.
During construction traffic will be diverted around work via lane shifts and lane reductions with the possibility of a change in traffic direction.
Signs will be posted indicating areas where street parking is prohibited.
There will be an impact to Metro Transit Bus route 68 and Saint Paul Public School busses. The water department is coordinating with both organizations to minimize the inconvenience.
Project Updates
Friday, June 29, 2018
Klainert Street water main is complete (Phase 1). Final pavement restoration activities are expected to be completed by Friday, July 6.
Flushing and water quality testing activities are underway on Biglow St. (Phase 3). Pavement restoration activities are ongoing in this section as well.
Work on Biglow Ln. west of Timberlake (Phase 4) began and is expected to last three weeks.