Ottawa Ave. Main Replacement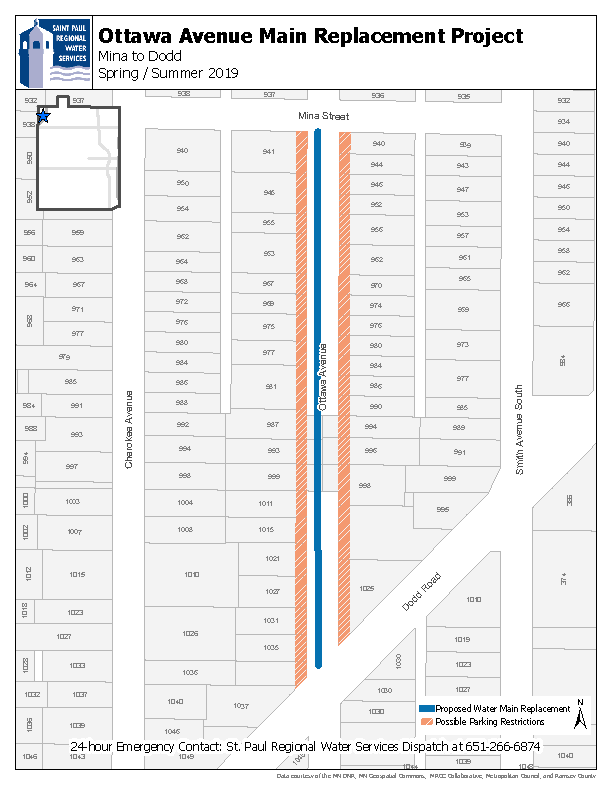 The original cast iron water main within the project area was installed in 1928.
It has suffered repeated breaks over the years and has exceeded its useful life.
SGP Contracting, Inc., under contract with SPRWS, will replace the existing cast iron water main with ductile iron pipe via open cut excavation.
Replace 1,100 ft. – 6" water main

Replace valves and hydrants

Restore street pavement as needed
Project Updates
Wednesday, July 3, 2019
The contractor plans to begin water main replacement work around July 22nd, 2019.
Between July 8th and July 22nd, SPRWS crews will be working to set up temporary water mains in the project area. The installation of these mains should have little impact on local traffic and should be minimally disruptive to residents.
Traffic impacts, including parking restrictions will be expected to begin around July 22nd
Thursday, June 13, 2019
SGP Contracting has been making steady progress on water main replacement work in Saint Paul, MN. Once the scheduled work on this side of the river has been completed, SGP will mobilize to Ottawa Ave. and begin water main replacement there.
Project activities will begin with the installation of the temporary water mains that will supply residents with water throughout the water main replacement project. We anticipate that SPRWS crews will begin to install temporary water mains sometime between June 24th and July 5th.
Temporary water main installation should be minimally disruptive to residents. Traffic access should be normal during temporary water main installation
Water main replacement work is expected to begin in mid-July.