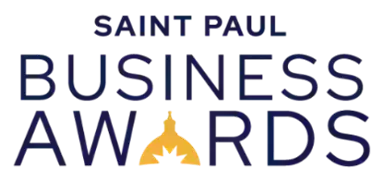 October 18, 2023
FOR IMMEDIATE RELEASE  
Contact: Khuluc Yang, Phone: 651-266-8684 | Email:  Khuluc.Yang@ci.stpaul.mn.us       
Nhia Vang, Phone: 651-266-8566 | Email: Nhia.Vang@ci.stpaul.mn.us
SAINT PAUL RECOGNIZES WINNERS AND RUNNERS-UP OF SEVENTH ANNUAL BUSINESS AWARDS
Saint Paul City Council has concluded and announces recipients for the 7th annual Business Awards honoring five outstanding Saint Paul businesses.
SAINT PAUL, MN – Today, the Saint Paul City Council announced the winners of the seventh annual Saint Paul Business Awards and will recognize the five winners and celebrate the efforts of all nominees and other businesses who chose to operate in Saint Paul at the City Council Special meeting on October 25th with a reception following. The awards acknowledge and celebrate local businesses that offer essential services, actively engage and support the community, make investments in their workforce, and demonstrate a strong commitment to upholding the values of equity and diversity in Saint Paul. 
Ward 5 Councilmember Amy Brendmoen shared that "the Saint Paul Business Awards give us a unique opportunity to look behind the curtain at some of our city's wonderful businesses. Whether it's celebrating an iconic community business like Connie's Creamy Cone or cheering for the "New Kid on the Block," we are lifting up the families and staff that work hard every day to make their business, and as a result, our city, shine!"  
Businesses are selected for an award in several categories based on nominations from the community.  
The following are the winners of this year's Business Awards:  
Conny's Creamy Cone, 1197 N Dale Street (Ward 5) – Traditions Award: honoring a business that has been active in Saint Paul for at least twenty years. (Runner-up: Nelson Cheese and Deli Como)
Dabbler Depot, 1545 7th Street (Ward 3) – Good Neighbor Award: honoring a business that shows a dedication to improving the community. (Runner-up: Nanny's Jamaican Restaurant LLC)  
InControl, 370 Wabasha Street N (Ward 2) – Alice O'Brien Award: honoring a women-owned business that is committed to equity and empowerment. (Runner-up: Hot Grainz) 
Swede Hollow Café, 725 7th Street E (Ward 7) – People's Choice Award: honoring a business that is recognized for its excellence by Saint Paul residents. (Runner-up: Papa Legba Lounge LLC)  
Wildflyer Coffee, 1362 7th Street W (Ward 2) – New Kid on the Block Award: honoring a business that has opened in Saint Paul within the last five years. (Runner-up: Weird Ink Society) 
Ward 7 Councilmember Jane Prince also had some wonderful things to share about Swede Hollow Café, this year's winner of the People's Choice Award, "Swede Hollow Café – with the best house-made bakery, breakfast and lunches and great coffee – has become a metro-wide destination in the heart of the East Side's Dayton's Bluff.  Proprietor Shirley Yang, whose marvelous baking has been a trademark of the café for fifteen years, is a wizard at offering a great regular menu and daily specials that keep us all coming back to this cozy coffeehouse."  
The Selection Committee that reviewed the applications and selected winners was made up of past winners, and the Saint Paul City Council appreciates their dedication to the process. The selection committee included: 
Cameran Bailey of NEOO Partners Inc. (2022 winner of the New Kids on the Block Award),
Jack Yang of Hoa Mei Market & Deli (2021 winner of the Good Neighbor Award),  
Seanne Thomas of ABC Realty LLC (2022 winner of the Alice O'Brien Award), and  
Tom Schroeder of Waldmann Brewery (2019 winner of the New Kids on the Block Award)  
Read about past award winners and learn more about the categories and criteria for submitting a nomination at www.stpaul.gov/business-awards. 
The award winners will be recognized on Wednesday, October 25th at 1 p.m. in City Hall, 15 W Kellogg Blvd, St. Paul, MN, Council Chambers – Room 300.  Please join us in-person to recognize these exceptional local businesses. For those who cannot join us, please watch this special meeting live on the City of Saint Paul – Calendar at stpaul.legistar.com. 
###