Early morning shooting leaves one dead in Saint Paul - Friday, March 15
Members of the Saint Paul Police Department's Homicide Unit are investigating a shooting that left a man dead early Friday, March 15.  
A person called 911 at about 4 a.m. and reported that shots had been fired inside a home on the 600 block of Elfelt Street and one person had been injured. Patrol officers were immediately dispatched to the scene, but they did not find a victim.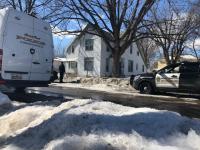 Instead, they spoke with multiple people who said they were in the home at the time of the shooting. They told the officers that an adult male victim had been shot and driven to Regions Hospital in a private vehicle.
Unfortunately, life-saving measures were unsuccessful and the victim had died from his injuries.     
Several possible witnesses were brought to the police department's Headquarters for interviews with homicide investigators, who are working to determine what led to the shooting and who is responsible. The department's Forensics Services Unit is also processing the scene for evidence.
The Ramsey County medical examiner will positively identify the deceased victim and determine an exact cause of death. This information, along with any updates on the case, will be released on the Saint Paul Police Department Twitter account, @sppdmn.
This is the sixth homicide of the year in Saint Paul.