Ramsey County and the City of Saint Paul Announce New Young Adult Workforce Development Program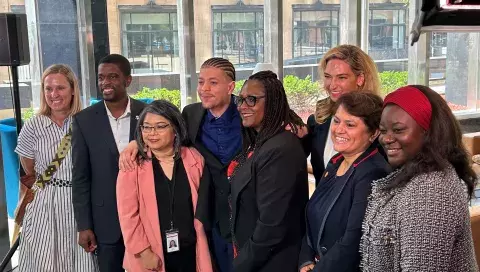 On June 29, Ramsey County and the City of Saint Paul announced a multi-million-dollar investment into Learn and Earn, a new young adult workforce development initiative. A total of $10 million in American Rescue Plan Act (ARPA) dollars will fund the initiative, which will provide career preparation opportunities in fields including construction, green energy, entrepreneurship, healthcare, human services and information technology, through 13 local community-based organizations.
"Learn and Earn providers are anticipating on serving 700 young residents," said Ramsey County Commissioner Rena Moran. "Investing in Learn and Earn programs was one of the critical recommendations in the plan that currently serves as our Economic Development Framework."
Learn and Earn programs promote in-demand careers that show promise for future growth, pay livable wages and are accessible to workers with diverse employment and educational backgrounds.
"Our goal is to invest directly into our young people," said Saint Paul Mayor Melvin Carter. "It is to invest directly into our businesses, to invest directly to our entrepreneurs of all ages."
"Without the work that went into the American Rescue Plan Act we would not have the vibrant, hardworking nonprofits that are going to be carrying out these programs," said Congresswoman Betty McCollum (D-MN). "I want to commend the collaboration that takes place between the federal, the state, the local, that includes city and county as well as the nonprofits to make something meaningful for the future."
Deputy State Director, Jodi Niehoff, shared remarks on the behalf of Senator Amy Klobuchar and applauded Ramsey County, the City of Saint Paul and community partners for their work in expanding access to career opportunities for local youth and young adults and said Sen. Klobuchar believes investing in young adults is critical for Minnesota's prosperity.
Community partners, Twin Cities R!se and Bridgemakers also shared their perspective on the Learn and Earn initiative and thanked federal and local leaders for bringing the project to fruition, believing in and helping youth advance their careers.
Learn and Earn will be available to Ramsey County residents ages 18-30. Priority will be given to low-income residents or those with employment barriers.