Saint Paul Police Department honors top cops, civilian of 2017
The Saint Paul Police Department is comprised of more than 600 sworn and 200 civilian employees. Each day, they work together to protect and maintain public safety through trusted service with respect.
They are police officers, investigators, executive assistants and more, and today Saint Paul Police Chief Todd Axtell honored the best of 2017.
Axtell was joined by members of the department, city leaders and community members at a ceremony held where he presented the awards for Officer, Detective and Civilian of the Year.
This year's honorees include a 15-year veteran street cop who has personifies the best of 21st century policing, an investigator who works domestic abuse cases with care and compassion, and an executive assistant who helps ensure that department goals are achieved on time and on budget.
The honorees are:
Officer of the Year: Officer Louis Ferraro
Ferraro was nominated for his professionalism, integrity, commitment to community engagement and innovative approach to serving the people of the East Side.
He joined the department in September 2002 and has consistently volunteered to work the busiest shifts ever since. According to Axtell, he has embraced the guardian mindset that is central to 21st century policing, and he has taken many younger officers under his wing while serving as a mentor and advisor.
"Lou embodies the best of 21st century policing, which focuses on building trust, community policing and officer wellness," said Axtell. "What has always impressed me about Lou is his willingness to mentor fellow officers, engage the community and serve as a true ambassador for our profession and for our department."
In 2017, Ferraro developed a program for new officers assigned to the Eastern District, helping them acclimate to their new setting. In addition, he consistently exceeds the department averages for the number of calls for service to which he responds, police visits and investigations.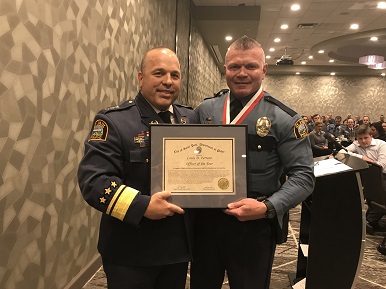 Detective of the Year: Sergeant Nicole Spears
Spears was nominated for her outstanding investigative work, which is centered on her ability to make victims of domestic violence feel safe and secure—even as they face some of the worst moments of their lives.
Spears joined the Saint Paul Police Department in September 2002 and is currently assigned to the Family and Sexual Violence Unit.
According to Axtell, her communication, compassion, patience and ability to provide the right resources to victims at the right times gives the people she serves the strength to share their stories and hold perpetrators of domestic violence accountable for their actions.
"Nicole is more than someone working a case. She is an advocate for victims of abuse," said Axtell. "She listens, mentors and advises. She exhibits the utmost respect to all victims. She works cases that are among the most troubling a police officer can encounter—and she consistently goes above and beyond for victims." 
In 2017, Spears followed up on a domestic abuse call involving a wife who did not want to press charges and a husband that would not talk. Rather than closing the case, she maintained contact with the victim and built a rapport with her. Eventually, the investigator and victim were able to work together to file charges against the husband for domestic abuse.
"Nicole's knowledge and investment in these horrific cases inspires all to do more for these victims," said Axtell.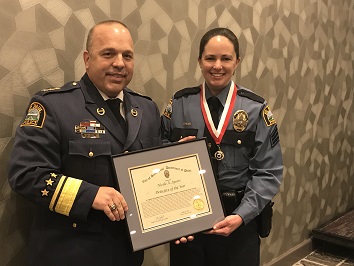 Civilian of the Year: Lauri Woolstencroft, executive assistant
Woolstencroft was nominated for her exemplary work ethic and her unwavering behind-the-scenes dedication to the City of Saint Paul for the past three decades. 
Woolstencroft joined the Saint Paul Police Department in 1984 and is currently the executive assistant in the Deputy Chiefs' Office, where she supports the work of three deputy chiefs and is responsible for overseeing departmentwide support services, patrol and major crimes. 
According to Axtell, she thrives in a high-stress environment that requires attention to detail, confidentiality, the ability to meet extremely tight deadlines and ensure that projects are completed on time and on budget.
"Lauri is the type of professional who quietly and consistently works behind the scenes to make an enormously positive impact on both the department and the community," said Axtell. "For more than 30 years she has played a critical role in ensuring that many of our most important initiatives and goals are achieved. I am incredibly happy to be able to honor her dedication and service to Saint Paul."
In addition to her exemplary work as an executive assistant, Woolstencroft has made community outreach a priority. In 2017, she brought happiness to the community by dressing as an elf and delivering gifts to children in the hospital with the Cops and Kids program. She also volunteers for Habitat for Humanity and is involved in many other department outreach activities.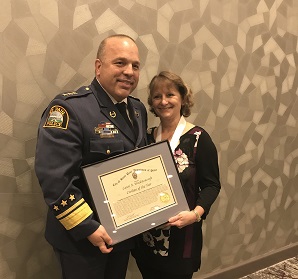 Honorable Mentions:
Honorable mentions included Trygve Sand for Officer of the Year, Sergeant Jennifer O'Donnell for Detective of the Year and administrative support employee Alexandra Cole for Civilian of the Year.