Saint Paul police investigating a shooting death in Summit-University neighborhood
Just before 11:30 p.m. Sunday, Oct. 27, Saint Paul police were called to the area of Kent Street and Central Avenue on a report of a shots fired.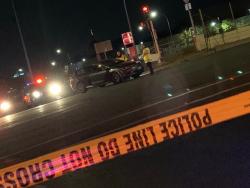 Officers arrived in the area to find a car at St. Anthony Avenue and Dale Street N. with an unconscious adult male driver suffering from an apparent gunshot injury. Saint Paul Fire paramedics responded to the scene and transported the male victim to Regions Hospital where he later died of his injuries.
Evidence of the shooting was located at Central Avenue W. and Kent Street N. This area and the intersection where the victim was located in the vehicle were both secured and will be processed by the Saint Paul Police Department Forensic Services Unit.
A second victim from this incident walked into Regions Hospital with non-life threatening injuries caused by broken glass.  
The Ramsey County medical examiner will positively identify the victim and determine his exact cause of death. This information, along with any updates on the case, will be released on the Saint Paul Police Department Twitter account, @sppdmn.
This is the 25th homicide of 2019.
###