Spring Celebrations & Events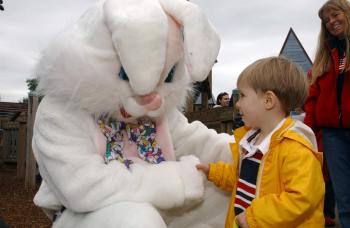 Hop into springtime with these fun, family friendly events. Celebrate spring with egg hunts, carnival games, jump castles, crafts, and more!
Lunch with the Bunny
Saturday, March 18 from 11am-1pm
Arlington Hills Community Center, 1200 Payne Ave, St Paul, MN 55130
Celebrate spring at this free, family event! Activities include face painting, a jump castle, craft project, carnival games, story time, and of course, lunch with the bunny! To volunteer or for more information, call 651-632-3862.
Spring Craft Bazaar
Saturday, April 1 from 10am-3pm
Edgcumbe Recreation Center, 320 Griggs St S, St Paul, MN 55105
Come out and support local vendors as they promote their hand made crafts at the Edgcumbe Spring Craft Bazaar. Free admission. Concessions will be available. Interested in becoming a vendor? Tables are only $25. For more information or to register as a vendor, call 651-695-3711.
Dusk Hunt
Thursday, April 13 from 6pm-8pm
Merriam Park Recreation Center, 2000 St Anthony Ave, St Paul, MN 55104
Families are invited to play games, make crafts, and enjoy a petting zoo! Dress for the elements. We will be doing an egg hunt out in the park. $5 per person, kids 3 and under are free. Food will start at 6pm. Pre-register online or pay at the door. Call 651-298-5766 for more information.
Spring Egg Hunt
Saturday, April 15 from 11am-1pm
Hancock Recreation Center, 1610 Hubbard Ave, St Paul, MN 55104
Celebrate spring with an egg hunt! Free. Call 651-298-4393 for more information.
Lunch with the Bunny
Saturday, April 22 from 11:30am-1:30pm
North Dale Recreation Center, 1414 St Albans St N, St Paul, MN 55117
Children will have an opportunity to visit with the bunny as it moves around to visit everyone during lunch. Other activities include a craft project, egg hunt, and more! $2 per person or $1 per person for families of five or more. Children 10 and under must be accompanied by an adult. Call 651-558-2329 to register.
Spring Celebration
Saturday, April 29 from 11:30am-1:30am
Linwood Community Recreation Center, 860 St Clair Ave, St Paul, MN 55105
Celebrate spring with family and friends at Linwood Recreation Center. Activities will include May Day flower arrangements, a jump castle, face painting, popcorn and refreshments. This is a free activity open to all ages. Call 651-298-5660 for more information.