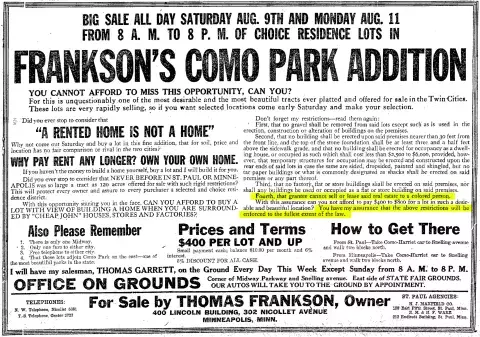 What are Racial Covenants? 
Racial covenants are restrictive clauses that were added to deeds to prevent people of color from owning property. These clauses required that property remain in the hands of white people in perpetuity. While the Fair Housing Act of 1968 outlawed these covenants and rendered them legally unenforceable, some property deeds in Saint Paul continue to feature these clauses.
The moral injury created by them persists into the present day, maintaining an intolerable through line to an era of hate and division.   
Continuing Impacts of Racial Covenants  
According to research from the University of Minnesota's Mapping Prejudice initiative, racial covenants continue to have an impact on Saint Paul residents:  
Racial covenants were powerful tools for residential segregation, the legacy of which continues to shape the makeup of our neighborhoods.   

In some cities, properties that included racial covenants at one point have 15% higher property values today compared to homes that did not include them contributing to a lasting wealth gap between white people and people of color.   

Covenants also directed investments in green park spaces, and as a result, neighborhoods with more people of color often have less access to amenities for health and safety. With climate change accelerating the impact of phenomenon like the urban "heat island" effect, a lack of access to green space can lead to dangerous excessive heat.
How the City of Saint Paul is Taking Action 
"Now that discriminatory covenants are illegal, remove them. It's like saying now that the 'Whites Only' signs are illegal, remove them." - Kobi Little, President of the Baltimore NAACP 
Following a 2021 City Council action, the City of Saint Paul is proud to join the Just Deeds initiative, a coalition of local cities that are beginning to address this historic inequity by connecting residents to resources and information to discharge covenants once and for all.   
Across the generations, Saint Paul residents from every walk of life have contributed, in large ways and small, to making our City more just for all of us. Join us in this effort to help make Saint Paul more equitable today and contribute to the wellbeing of generations to come. Learn more about how to discharge racial covenants below and find additional resources. 
How to Discharge a Racial Covenant
In partnership with Ramsey County, the Just Deeds Coalition, and the Mapping Prejudice Initiative at the University of Minnesota, the City of Saint Paul can work with residents to begin the process of discharging racial covenants. Learn more about the steps involved below. 
Check to see if your property has a covenant.
Use the Mapping Prejudice Initiative's online mapping tool to see if your property has a racial covenant. Use the search box in the upper left-hand corner to find your address. Properties with racial covenants are highlighted in green.
Please note that research on racial covenants in Ramsey County is ongoing. Check back often to see the latest information.
Complete the Just Deeds Application
Complete the online City of Saint Paul Just Deeds Application Form.
The application form requests information about your property, including:
Address 

City 

Property Identification Number (optional) 

Contact information for applicant 
For properties outside of the City of Saint Paul, please visit the Ramsey County Just Deeds website. 
City Staff Outreach
After completing the form, Just Deeds will share your application with the City of Saint Paul Just Deeds Project Team who will get in touch with the you and/or the applicant.