The Saint Paul Fire Department's EMS Academy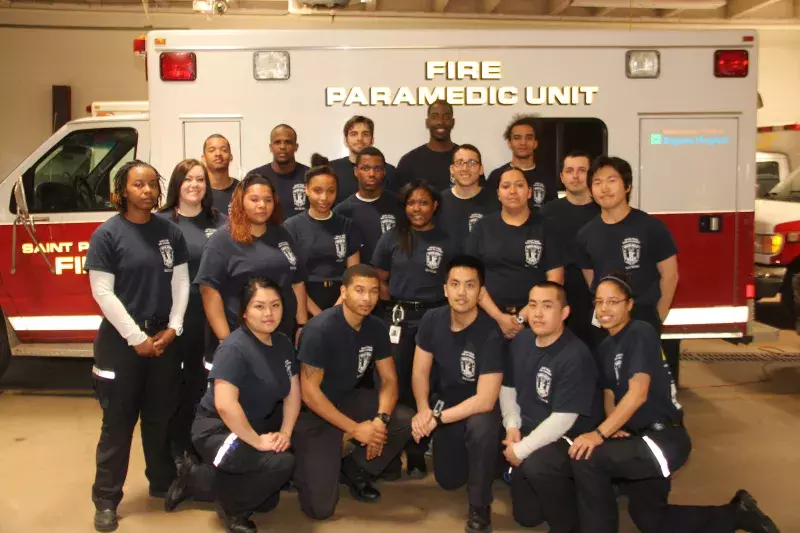 Overview
Saint Paul Fire Department's Emergency Medical Services (EMS) Academy is a tuition-free emergency medical technician (EMT) certification program.  Candidates receive pay for training, learn about careers in public safety, and gain skills and certifications required to start careers in EMS.  Upon completion of the 12 weeks of paid training, graduates earn National EMT certification, and job competency training.
The EMS Academy is designed for low-income, underrepresented communities, and women residents of Saint Paul or Ramsey County.  Recruitment is targeted to youth of diverse ethnicity, linguistic ability, and cultural experience, with the goal of building an EMS workforce reflective of Saint Paul's communities. 
The EMS Academy is celebrating its 13-year Anniversary, and this will be the 20th class.  In total the EMS Academy has had 300 graduates since starting in 2009.  Graduates have gone on to paramedic school, worked in local hospitals and emergency rooms, been hired by the Saint Paul Fire BLS Division, or hired by other metro area ambulance services.  16 EMS academy graduates have gone on to be Saint Paul Firefighters
To learn more about the EMS Academy, view our promotional video. 
Requirements:
-High school diploma or G.E.D.
-Government issued picture identification
-Meet income guidelines
-Between the ages of 18 and 24
EMS Academy Graduation
Congratulations to the Summer 2018 EMS Academy graduating class!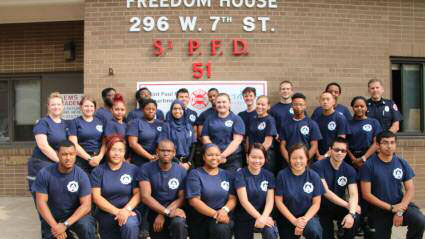 EMS Academy
Like us on Facebook.