EMS Academy
Overview
The Saint Paul Emergency Medical Services (EMS) Academy is an intensive, tuition-free emergency medical technician (EMT) certification and firefighter awareness program designed for low-income, minority, and women residents of Saint Paul between the ages of 18-30 (in the summer, the age range is 18-24).
Participants earn an hourly wage during the training, which lasts 240 hours over 10-14 weeks. Recruitment is targeted to youth of diverse ethnicity, linguistic ability, and cultural experience, with the goal of building an EMS workforce reflective of Saint Paul's communities.
Upon completing the EMS Academy, graduates earn National EMT certification, 9 elective college credits through Century College, and job competency training. To date, over 200 low-income, diverse young adults of Saint Paul have completed the EMS Academy.
To learn more about the EMS Academy, view our promotional video. 
The EMS Academy is a collaboration between the  Saint Paul Fire Department (SPFD), Saint Paul Department of  Human Rights and Equal Economic Opportunity (HREEO), Saint Paul Parks and Recreation Youth Jobs Corps (YJC), Saint Paul Public Schools (SPPS)  Hubbs Center, and  Community Action Partnership of Ramsey and Washington Counties (CAPRW).
Join the EMS Academy
The application period for the Summer 2017 EMS Academy was open April 3 - May 1st.  Orientation for students accepted into the Summer 2017 EMS Academy will be June 7th with classes beginning June 12th.  Graduation will be August 28th, 2017.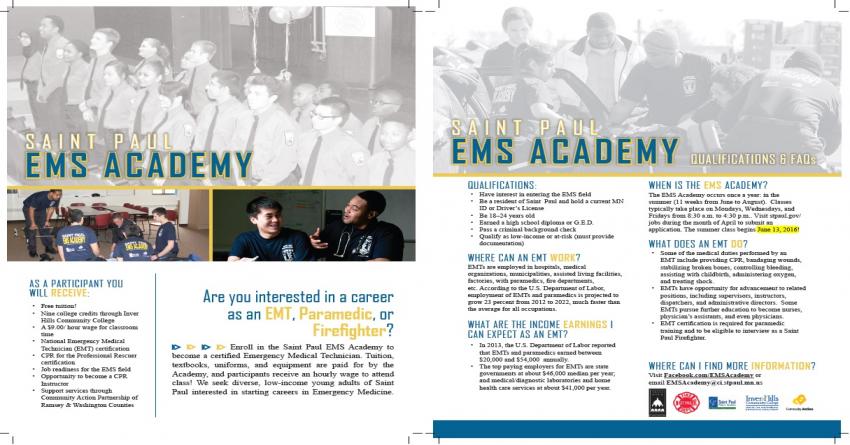 Introduction to EMS Class
The EMS Academy also offers an Intro to EMS Class which includes 60 hours of tuition-free classes that cover anatomy, physiology, EMS vocabulary, and study skills. This class is useful for any students pursuing nursing or medical assistant training. If you plan to apply for the EMS Academy, we strongly recommend taking the introduction class.  No Intro to EMS Class is being offered at this time.  More information will be posted here when then next Intro to EMS class is offered.
EMS Academy Graduation
Congratulations to the Winter 2016 EMS Academy graduating class!
Mayor Coleman and Saint Paul Fire Chief Tim Butler hosted a graduation ceremony for the graduates, their family and friends, and EMS Academy partners. 
Additional Information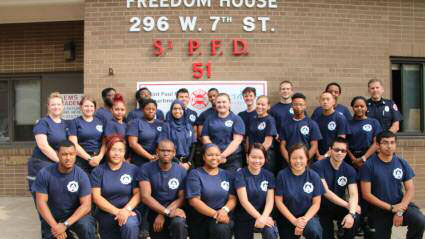 EMS Academy – Class of Summer 2014
Like us on Facebook.