Race to Reduce
All building owners who comply with the benchmarking ordinance through the full disclosure pathway are eligible to receive benefits of the Race to Reduce. This is an on-going program that provides the opportunity for owners of large commercial, multifamily, and public buildings to:
Learn: Find out how to

benchmark

your building's energy consumption, take steps toward efficiency, and gain technical expertise.

Save: Saint Paul and its partners provide Race to Reduce participants with opportunities to save energy and money through operational changes, the development of energy management plans, and rebates and funding options.

Gain Recognition: The Race to Reduce is Saint Paul's energy efficiency leadership circle. Participants are recognized for their efficiency efforts through press releases and recognition ceremonies.
How to Join
Being part of the Race to Reduce is as easy as complying with Saint Paul's Energy Benchmarking Ordinance. The ordinance provides two options: full disclosure and partial disclosure. Selecting full disclosure, meaning you share your building energy data with the City, enrolls you in the Race to Reduce and makes you eligible to receive program benefits.
If you have questions, reach out to Molly Smith at molly.smith@ci.stpaul.mn.us.
Program Benefits
Sharing your data with the City allows building owners and operators to access the benefits and resources provided by the Race to Reduce. Race to Reduce buildings are added with metrics to the Efficient Buildings Collaborative Benchmarking Map, pictured below.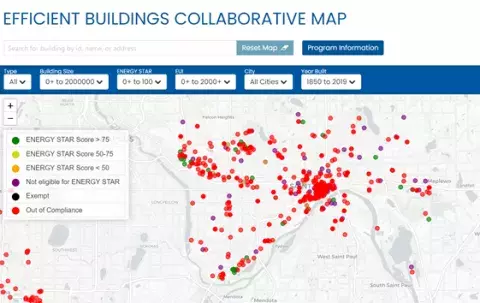 Participating building owners and operators receive a yearly Building Energy Scorecard, which outlines current energy consumption and suggests next steps toward efficiency. The Race to Reduce also includes the opportunity to develop an Energy Management Plan with the City of Saint Paul's partners. All participants will also be invited to an end-of-year ceremony, where their energy efficiency efforts are recognized by the Mayor.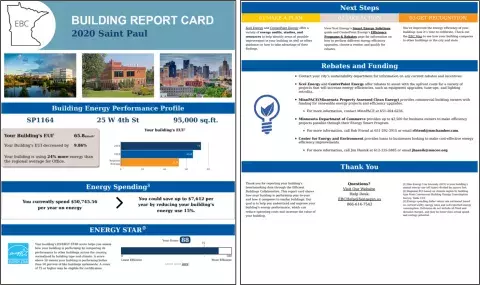 Subscribe to Energize Saint Paul updates Learn How To Benchmark