Building Saint Paul's Inclusive Digital Economy
The City of Saint Paul believes strongly that all jobs are tech jobs. Saint Paul has the people, leadership, and businesses to build the most inclusive tech economy in the world. There is a wealth of untapped human potential in our City. Our linguistic, ethnic, racial, and cultural diversity gives Saint Paul a competitive advantage.  
Tech For All is the City's initiative to connect organizations and programs focused on creating an inclusive digital economy. Tech for All is working to accelerate Saint Paul's economy by connecting Saint Paul residents of color and women to wealth building job opportunities — many that are going unfilled — and investing in tech-based education for Saint Paul's future workforce: youth of color and girls. Tech For All centers racial and gender equity with a focus on engaging those who are not already engaged in the tech community.
There are four focus areas of Tech For All:+ Students + Career Pathways + Entrepreneurs + Community  
---
Creating Essential Educational and Employment Pathways
More than 7,000 tech jobs remain vacant in our region while people of color in the region remain disproportionately unemployed and underemployed. Tech For All is working to create essential educational and employment pathways to build an inclusive digital economy that benefits everyone. All people in Saint Paul need access to these jobs that can be life changing. These jobs create opportunity for low-income, people of color, and women to build wealth and reduce inter-generational poverty.
---
Bringing Pop-Up Gaming and Drone Racing to a Neighborhood Near You
With support from the Knight Foundation, Tech For All piloted a series of pop-up gaming and drone racing events in Saint Paul neighborhoods during summer 2020. These events created a safe space for youth who aged out of other recreational opportunities and sparked interest in STEM careers through exciting, hands-on activities. The pop-up gaming pilots were successful, garnering high participation and enthusiastic support from youth and community partners.  
Back by popular demand, the Pop Up Recreation truck is back for summer 2022! View the schedule to find this traveling truck in a neighborhood near you!
Mayor Carter launches a drone with a young person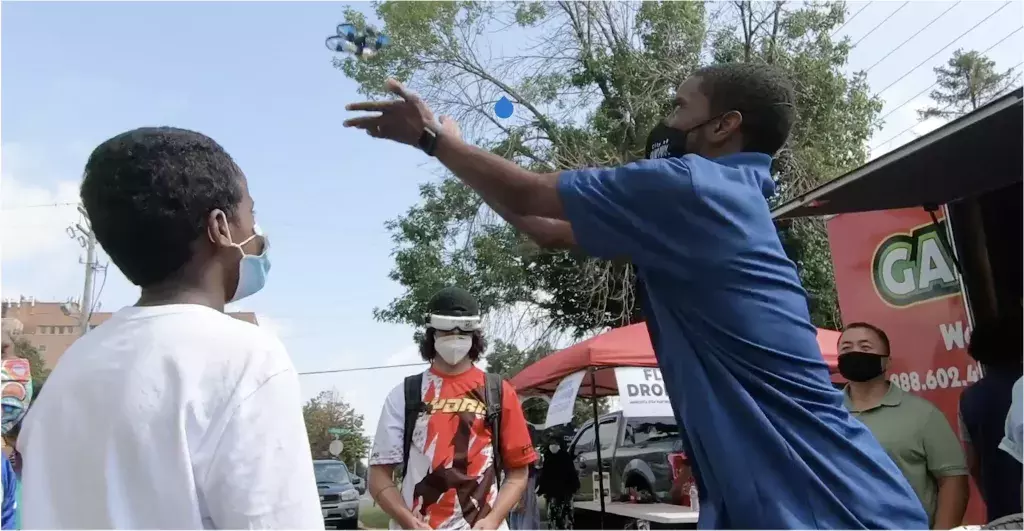 During Summer 2021, the City launched Tech For All: Summer Swarm, a fun series of hands-on STEM activities for youth and young adults. Multiple City departments, businesses, and community organizations will deploy exciting activities that will meet youth and young adults where they are in order to tap into their creativity and problem solving skills while opening them up to new careers opportunities.