About Adult Volleyball
The City of Saint Paul offers Women's and Co-Rec Adult Volleyball leagues during the fall and winter seasons. Registration for the fall session begins late June, with league play beginning in September. Registration for the winter session begins in November, with league play beginning in January. All teams are automatically entered into an end of season tournament after an eight week regular season.
Fall 2022 - Individual Registration
League Dates: Thursday, September 8 - October 27th. Games held at Arlington Hills or El Rio Recreation Centers. 
Registration Deadline: Friday, August 26th or as league fills. Space is limited, register online or call 651-558-2255 today!
$40/player (Non-Resident fees apply)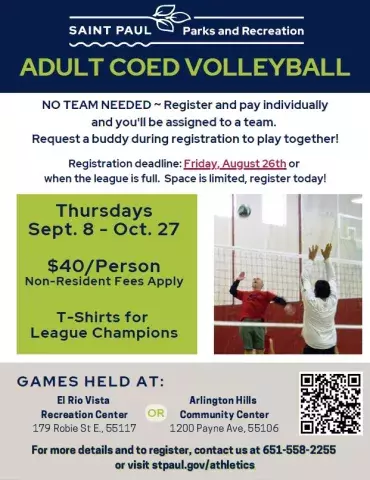 Adult Open Volleyball
Some of our recreation centers host Adult and/or Senior drop-in volleyball. Pay per session - please bring exact change or use credit/debit. 
Adult/Senior Drop-In Volleyball 
Outdoor Sand Volleyball Court Locations
View Saint Paul outdoor sand volleyball courts on a map: