Parks & Recreation Commission
Overview
The Parks and Recreation Commission is a citizen group formed to advise the Mayor and the City Council on Parks and Recreation matters of long-range and citywide importance. Citizen participation is encouraged in all Commission business, and the Commission is often sought out by the public as a place to voice their concerns and opinions. The members of the Commission serve staggered, three-year terms. Member must:
Possess a strong interest in and have knowledge about the Saint Paul Parks and Recreation system.
Attend monthly meetings in addition to serving on subcommittees and task forces.
Represent the Commission in its dealings with City departments, citizen groups, and outside agencies.
2013-2017 Department Strategic Plan
2016 Parks Commission Work Plan (subject to change)
Parks and Recreation Commission Members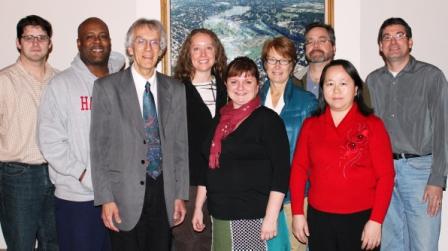 Left to right: Andy Trcka (Chair) Erick Goodlow, Dave Haley, Emily Shively, Betsy Mowry, Susan Bishop (Vice Chair), Dan Marckel, Salina Vang, and John Mountain
Join us at our next meeting:
Wednesday, August 10, 2016
Duluth & Case Recreation Center
1020 Duluth St.
5:30pm-8:00pm
No business meeting. Various park areas will be visited by use of Como Zoo and Conservatory's shuttle bus. Shuttle will leave promptly at 5:40 p.m.
Regular business meetings of the Parks and Recreation Commission are open to the public. If special accommodations are required, please contact:
Joan Phillips
Ph: 651-266-6404
Email