Each year, more than 5,000 volunteers help to improve and conserve Saint Paul's natural areas, educate the community--young and old, and keep our parks and gardens healthy and beautiful.
If you enjoy being outside, taking care of our environment, and live or work or play in Saint Paul, you should consider joining our welcoming community of volunteers. We have a variety of ways to volunteer. We hope you will find a role that fits your needs, whether you have two hours or two years to give.
Thank you so  much for your interest in volunteering in our natural areas in Saint Paul. The 2020 growing season has ended and our volunteer needs have decreased. We will begin accepting volunteer requests for the 2021 growing season in March.
Supporters We are grateful for support from the Clean Water, Land and Legacy Amendment.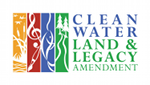 Are you interested in becoming a volunteer? Tell us more by completing the volunteer form below.
All volunteer positions in Natural Resources are done for 2020 but we will soon be starting to take groups and individuals for 2021. Thank you.