Lofts at Farmers Market is located in the Lowertown neighborhood of downtown Saint Paul. It's a 58 unit market rate rental housing development that was developed by the Saint Paul Housing and Redevelopment Authority. Lofts at Farmers Market opened in February 2012 and features studio units, one bedroom and two bedroom units with 16 different floor plans to choose from. The Lofts is within steps of the Saint Paul Farmers Market and surrounded with cultural and entertainment venues. It's also located on the light rail Green Line, opening in spring 2014. The building has 2,000 square feet of commercial space on the first floor. The Saint Paul HRA is finalizing a lease agreement with the Strip Club Steak House to open a new concept restaurant in the space.
For more information visit: Lofts at Farmers Market website Facebook Twitter
The Lofts in the News: Pioneer Press - Strip Club owners' latest venture dubbed 'Saint Dinette'
Green Roof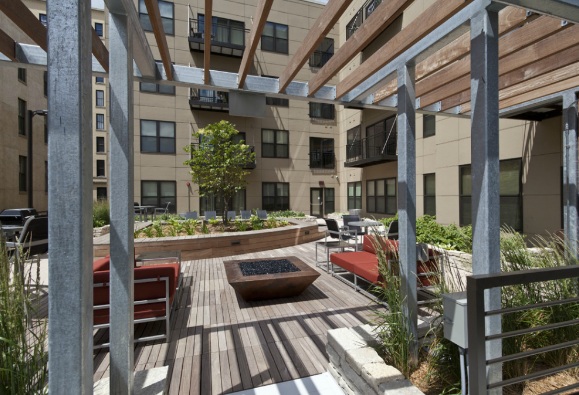 The green roof provides storm water management for the site by controlling and slowing down the flow of rainwater off the roof in the planting areas. This will mitigate the impact of the rain water on the city storm water system, and reduce the building's contribution to the urban heat island effect.
Public Art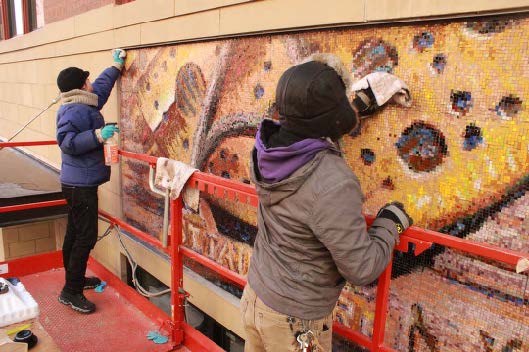 There are five public art installations on the exterior of the building that depict the Lowertown area, Farmers Market, river and Fire Station No. 12. All artwork was fabricated and installed by Mosaico Group, LLC.