Development Opportunity Sites
Subscribe for Development Opportunity Updates!
Snelling-Midway Redevelopment Site
Ford Site: A 21st Century Community
Northeast Corner of Rice & Sycamore and 119 Lyton Place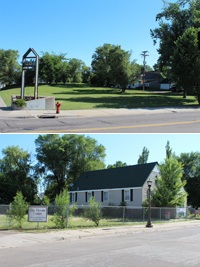 Located minutes from downtown Saint Paul and the State Capitol, these two sites are in a bikeable neighborhood and within walking distance to multiple locally owned businesses. The neighborhood vision for these sites is commercial, residential or mixed-use with a multi-story concept on the main site that is a transit-oriented development. The properties can be developed together or individually.
District 6 Neighborhood Plan - Rice Street Guidelines are in Appendix B.
Corner of Rice & Sycamore The main parcel is a full block between Sycamore and Lyton Place along Rice Street. Size = 0.80 acres Current zoning = TN1 PID #30-29-22-33-0063, 30-29-22-33-0075-0080
119 Lyton Place This additional smaller parcel is located at 119 Lyton Place and includes a 2,328 sq. ft. building. Current zoning = RT1 PID #30-29-22-33-0009
For more information about Rice & Sycamore and 119 Lyton Place, contact Andrew Hestness at 651-266-6577.