The Penfield
Contact
Penfield Leasing Office
Email
101 East 10th Street
Saint Paul, MN 55101
Phone: 651-333-4950
The Penfield is a mixed-use 254 unit market-rate rental housing development located on 10th Street between Robert and Minnesota in downtown Saint Paul. Construction on The Penfield was completed in December 2013. In addition to the housing, there is a full service Lunds grocery store on the first floor occupying 27,500 square feet of commercial space. Lunds Penfield opened on May 15, 2014.
   Website Facebook  |  Twitter
VIDEOS
Marketing Video Grand Opening Event (February 2014) Construction Update (October 2013) Construction Webcam Groundbreaking Event (July 2012)
The Minneapolis-Saint Paul Business Journal awarded The Penfield a Best in Real Estate award for multifamily market rate housing in 2013.
The Penfield won a Multifamily Executive Award for Best Project - Mid-Rise Podium or Wrap in 2015.
Amenities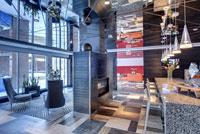 The Penfield will cater to the discerning renter who wants to take advantage of all downtown Saint Paul has to offer. Community amenities include an 18,000 square-foot courtyard and green roof with an outdoor pool, hot tub, fire pit, cabanas, dog run and green space. Residents will also be able to take advantage of the sundeck, clubroom with gourmet kitchen, fitness center, enclosed parking and many other comforts.
Unit Amenities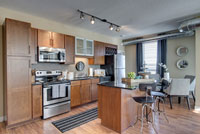 Unit Kitchen Units feature modern luxuries, including stainless steel appliances, in-unit washers and dryers, granite countertops and kitchen islands, wood floors and open, airy layouts. Renters can choose from three finish packages, and will enjoy large 36-inch soaking tubs, custom closets and many more luxury details.
Sustainability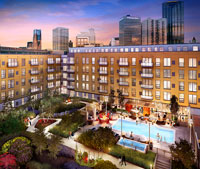 The City is seeking LEED Silver certification of The Penfield in conjunction with Minnesota's 2030 Energy Efficiency rating. In addition to the construction elements required for Silver certification, there is also a 12,000 square foot green roof. The City has completed an analysis of the performance of the Green Roof's impact on stormwater runoff and heat island moderation.
Green Roof Monitoring Website  |  Full Case Study
If you are interested in a tour of the Green Roof, please contact Marie Franchett or 651-266-6702
Preservation of the Public Safety Building & Public Art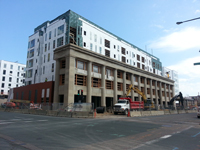 The Penfield preserves a portion of the facade from the former Public Safety Building that was on the site. A historical interpretive display with the history of the Public Safety Building will be installed in addition to public art that includes a corten light wall, corten steel lighted benches, cut granite benches and a Spirit of the Mississippi statue.
Ownership & Financing Partners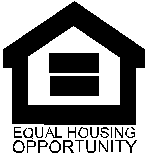 The Penfield is owned by The Penfield Apartments LLC/Saint Paul Housing and Redevelopment Authority. Financing for the project was provided by AFL-CIO Housing Investment Trust Fund, Dougherty Mortgage, U.S. Department of Housing and Urban Development, Saint Paul Housing & Redevelopment Authority, Metropolitan Council, Minnesota Department of Employment & Economic Development and Ramsey County.