2040 Comprehensive Plan - Saint Paul For All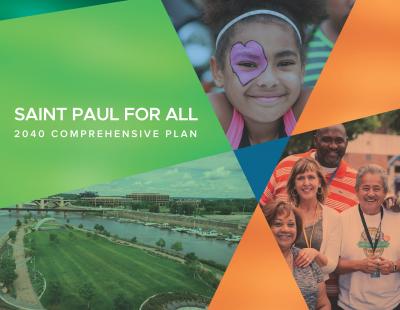 Saint Paul is updating its comprehensive plan – a forward-thinking vision that will guide the city's development over the next 20 years. The draft plan can be viewed in-full here, or by topic/chapter here.
Please give your opinions on the draft plan in the comment form below, or in-person at the public hearing at 8:30 a.m. on Friday January 11, 2018 in Room 40 (basement) of City Hall, 15 W. Kellogg Boulevard.  Your input is truly valued as we move through the plan adoption process.
Saint Paul's Vision for 2040
Saint Paul is a community that is welcoming to and a place of opportunity for people of all incomes, ages, races, ethnicities and abilities. It accomplishes this by addressing the place-based dimensions of our neighborhoods: embracing growth; offering a wide range of housing choices for its diverse residents; providing a transportation system that meets the needs of pedestrians, bicyclists, transit users, riders and drivers; preserving, celebrating and building on our histories; and supporting infill development that sensitively accommodates a growing, aging and increasingly diverse population. Saint Paul is defined and enhanced by its location on the Mississippi River - an economic, environmental, cultural, historic and recreational amenity that enriches our quality of life and economic prosperity.