2040 Comprehensive Planning Process
Saint Paul For All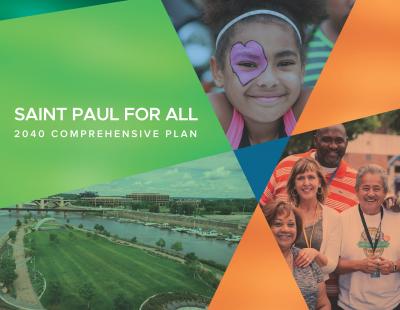 Saint Paul is in the process of updating its comprehensive plan - a forward-thinking vision that will guide the city's development over the next 20 years. It addresses city-wide physical development – how our neighborhoods, commercial properties, streets, parks, and infrastructure impact the people who live, work and play in Saint Paul.
In March 2018, a preliminary draft of the plan was released to the Metropolitan Council, neighboring government bodies, district councils, and other expert bodies. The draft plan can be viewed here (large file size). An official public comment period will open in late July in advance of a public hearing at the Planning Commission and City Council this fall.
Saint Paul's Vision for 2040
Saint Paul is a community that is welcoming to and a place of opportunity for people of all incomes, ages, races, ethnicities and abilities. It accomplishes this by addressing the place-based dimensions of our neighborhoods: embracing growth; offering a wide range of housing choices for its diverse residents; providing a transportation system that meets the needs of pedestrians, bicyclists, transit users, riders and drivers; preserving, celebrating and building on our histories; and supporting infill development that sensitively accommodates a growing, aging and increasingly diverse population. Saint Paul is defined and enhanced by its location on the Mississippi River - an economic, environmental, cultural, historic and recreational amenity that enriches our quality of life and economic prosperity.
Help Us Shape the Future of Saint Paul
After three years, community engagement at 67 events, and feedback from nearly 2,300 residents, we are getting ready to release the draft for public review. Join us for an open house where you can learn more about what's in the draft plan, how and when you can weigh in, and next steps.
Saturday, June 9
Rondo Community Library
Multipurpose Room
461 Dale Street North
10:30 a.m.-12:30 p.m.
(Presentation begins at 11 a.m.)
Tuesday, June 12
Arlington Hills Community Center
Community Room A
1200 Payne Avenue
5-7 p.m.
(Presentation begins at 5:30 p.m.)