Household Hazardous Waste
Unwanted household materials that are flammable, an oxidizer, corrosive, toxic, reactive, or contain polychlorinated biphenyls (PCBs) are considered hazardous waste. These common products can harm human health and the environment if used, stored or disposed of improperly. 
If a container has the words: POISON, DANGER, WARNING or CAUTION on the label and still has product left over it cannot go in the trash. 

Examples of Household Hazardous Waste:
Automotive products, including
automotive fluids
lead-acid batteries
oil filters
Household, lawn and garden products, including
adhesives
aerosols
cleaners
fire extinguishers
fluorescent bulbs
mercury-containing items
pesticides
poisons
pool chemicals
stains and varnishes
Personal care products, including
nail polish
hair spray
perfume and cologne
Disposal Sites
Ramsey County collects and manages hazardous waste at a year round collection site and seasonal collection events throughout the year.  Check their list of accepted materials for more details. 
Please note, electronics are not accepted. Visit the Electronics page for disposal options. 
Medicine Collection Program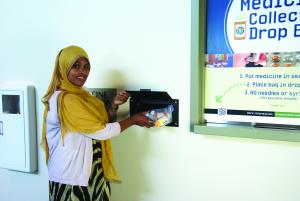 Safely dispose of unwanted, expired and unused medicines for FREE at one of Ramsey County's two public drop boxes. Storing unwanted, expired and unused medicines can lead to drug abuse or poisoning, and medicines flushed down the drain or disposed of in the trash can harm the environment. 
Ramsey County is now accepting needles, syringes and lancets at both their mobile and year-round household hazardous waste collection sites. Check their website for more information. 
More information on where to go and what you can drop off is on the Ramsey County Medicine Collection Webpage.
Paint Recycling
Numerous hardware stores throughout the state accept leftover cans of latex and oil paint from households and painting contractors. To find a store near you, check this paint drop off site locator.
More Information on Item Disposal 
Search the Ramsey County A to Z Disposal Guide for reuse, recycling and disposal information for a wide variety of materials.