Afternoon shooting leaves one dead in the Frogtown neighborhood
Investigators with the Saint Paul Police Department Homicide Unit are looking for the person who shot and killed a man Tuesday afternoon.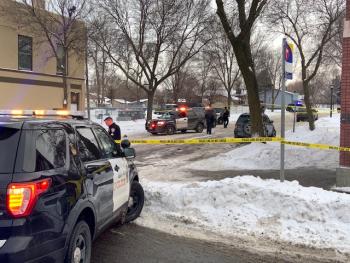 Police officers patrolling Saint Paul's Frogtown neighborhood heard the gunfire just after 4 p.m. near the intersection of University Avenue West and Arundel Street. The officers quickly reported the incident to the Ramsey County Emergency Communications Center, located the victim lying in Arundel Street just south of University Avenue, and rendered aid.
St. Paul Fire medics arrived a short time later and transported the adult male victim to Regions Hospital, where he later succumbed to his injuries.
Police officers have established a crime scene perimeter and investigators from the Saint Paul Police Department's Forensic Service Unit will be collecting evidence. In addition, several witnesses have been brought to police headquarters for interviews.
As of Thursday night, no arrests have been made in the case. However, investigators do not believe this was a random shooting. They are asking anyone with information to call 651-266-5650.
The Ramsey County Medical Examiner's Office will conduct an autopsy on the victim to establish his identity and exact cause of death. This information, along with any updates in the case, will be released on the police department's Twitter page, @sppdmn.
This is the third homicide in Saint Paul this year.
###