Fall Photo Contest
Saint Paul Parks & Recreation
 Fall Photo Contest Rules and Guidelines
October 2019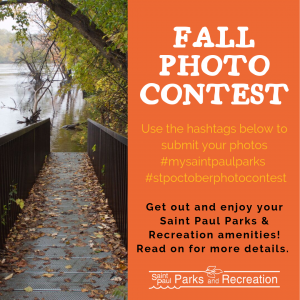 Photos MUST be taken within the Saint Paul city limits. Tag your location in your post!
You do not need to be a Saint Paul resident to enter. Everyone is eligible to submit an entry.
Entry participants must be a follower of Saint Paul Parks and Recreation on Facebook or Instagram. (Non-followers will not be eligible.)
To enter, post your photo on Facebook or Instagram tagging "Saint Paul Parks and Recreation" on Facebook or "@saintpaulparks" on Instagram. Use the hashtag #mysaintpaulparks and #stpoctoberphotocontest (If you do not use this hashtag we won't be able to find your photo!)
Make sure you set your photo settings to 'public' so we can see it.
By submitting your photo, you warrant that your entry is an original work of authorship. You understand and agree that Saint Paul Parks and Recreation can re-post your photo and credit your name/username in any future promotions hereafter.
Contest will last from October 1, 2019 at 12:00am through October 31, 2019 11:59pm CST. All photos must be posted within this time frame to be eligible.
At the end of the contest, every entrant will have their name in a drawing to win some Parks and Recreation prizes. In addition, Parks and Recreation staff will circulate their favorites as Facebook cover photos throughout the year!
Individuals may submit an unlimited number of photos but will only be entered to win once.
Prizes cannot be substituted, transferred, or returned for cash. No purchase necessary to enter or win. A purchase does not increase the chances of winning.
This contest is not sponsored, administered, or endorsed by Facebook or Instagram.
Be creative! Think outside the box! Get out and enjoy your Saint Paul Parks and Recreation amenities!
Theme:

OCTOBER: ​Change: Capture a moment in time that is different than before—be creative expressing this as a single shot or a series of photos.  
(SEPTEMBER: Break)
AUGUST: Action: Objects in motion, things that move or help you move--be creative as you express movement or lapse in time through a photo.
JULY: Landmarks: Park pavilions, splash pads, boat landings, or your local playground, we want to know the "sites to see" in your Saint Paul neighborhood park or recreation center!

JUNE:

 Animals: From your personal pet, to Minnesota's notorious boxelder bug, to the new baby zebra at Como Zoo, highlight what Saint Paul's animals love about summer.

MAY:

 New nature: Flowers, trees, and baby animals—they are all starting to pop up this time of year. Capture a moment where something new is starting to appear.