Saint Paul officers involved in shooting after stolen vehicle driven at officer
Saint Paul police are looking for the driver of a stolen vehicle after it was driven at an officer during an early morning traffic stop.
The incident occurred just after 2 a.m. Tuesday, Aug. 13, when two officers stopped to investigate the vehicle in an alley near the intersection of Winter Street and Capitol Boulevard North. At some point during the stop, the driver of the stolen vehicle drove at one of the officers while attempting to flee. The other officer fired at the vehicle.
The officer at whom the vehicle was driven suffered minor injuries. Both officers were wearing body worn cameras.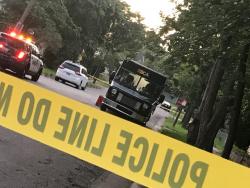 A short time later, other officers located the stolen vehicle unoccupied on the 700 block of Prior Avenue. Officers are currently conducting a search for the driver. Preliminary information indicates that no one in the vehicle appears to have been injured during the incident.
In accordance with police department policy, both officers will be placed on standard paid administrative leave while the Minnesota Bureau of Criminal Apprehension (BCA) investigates the incident.
This is an open and active investigation and no further information is currently available. Any updates will be provided by the BCA.