Vehicle crash leads to shooting death of man in Payne-Phalen neighborhood
Saint Paul police are investigating after a good Samaritan was shot while trying to help a driver who crashed at the intersection of Case Avenue East and Edgerton Street North on Monday, Sept. 9.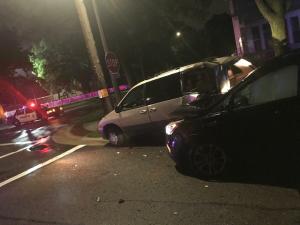 Officers were dispatched to the intersection at 10 p.m. on a report of a multiple-vehicle crash. While officers were on the way to the scene, the call was updated with a report of shots being fired.  
When officers arrived, they found four vehicles that had been involved in the crash, an uninjured woman whose vehicle had been rear ended, a good Samaritan suffering gunshot wounds and the suspect, who was driving another vehicle involved in the crash.
Officers immediately secured the scene, took the suspect into custody and summoned Saint Paul Fire paramedics, who responded and pronounced the victim dead without transporting him to the hospital.
According to witnesses, the adult male suspect was driving southbound Edgerton Street when he rear-ended the female driver of another vehicle that was also driving southbound. The collision caused the woman's vehicle to cross into the northbound lane and crash into an unoccupied parked vehicle.
The suspect's vehicle continued southbound Edgerton and struck an unoccupied parked car on the northwest corner of Edgerton and Case. At this point, the victim arrived at the scene and attempted to help the drivers. The suspect then began to shoot from inside his vehicle and struck the victim in the head.
Investigators are interviewing witnesses and looking for any evidence to understand what occurred after this crash. The department's Forensic Services Unit will be actively processing the scene for evidence.
The Ramsey County medical examiner will positively identify the victim and determine an exact cause of death. This information, along with any updates on the case, will be released on the Saint Paul Police Department Twitter account, @SPPDMN.
This is the 18th homicide this year in Saint Paul.
 
###