Ward 6 - Councilmember Yang
About Ward 6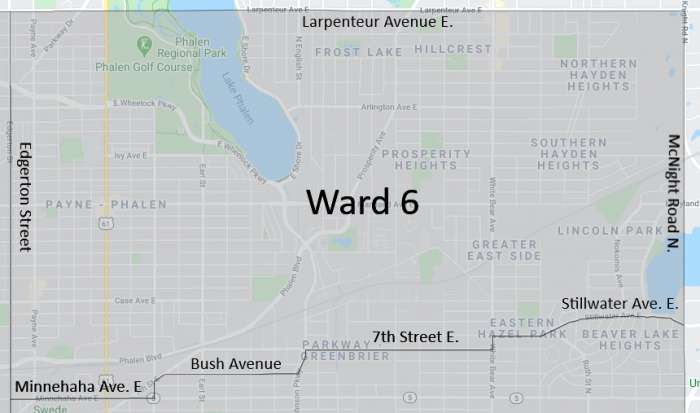 The Greater East Side Ward 6 is comprised of many neighborhoods including Frost Lake, Hayden Heights, Hazel Park, Payne/Phalen, Phalen Village, and Prosperity. More simply, people here are proud to be called East Siders. Ward 6 is also home to important natural amenities including Phalen Regional Park, Saint Paul's most beautiful lake and park. Another point of interest: Ward 6 contains the highest point in Saint Paul, the 14th tee at Hillcrest Golf Course (1075.2 feet above sea level).
About Councilmember Nelsie Yang
I believe that all working families should live a life that is long, fulfilled, and joyful. In an ideal world, no working family should have to experience the pain of not having enough. The reality we live in is far behind from this ideal world. Many families today are living paycheck to paycheck; trapped in cycles of poverty. Rent has skyrocketed while our wages have not. Jobs are limited in the East Side, creating barriers for our youth and millennials especially when it comes to joining the workforce. 
I'm a fighter, racial equity organizer, and union steward. We don't run to keep the system the same, we run to make it work for people across race, age, gender, class, and especially those left behind. My priorities are economic sustainability for working families and small businesses, affordable housing, public safety for all, climate and environmental justice, equitable roads and transportation, and an East Side united across our diversity. 
Stay in Touch
News from Our Office​
Saint Paul Public Works has canceled the in-person community meeting on Ayd Mill Road scheduled for Thursday, March 19, 2020. Public Works will be posting a narrated video PowerPoint presentation with information about the history of Ayd Mill Road, the condition of the road, and alternatives that have been considered for repair and maintenance of the road, including the proposed 3-lane plan. Community members will be invited to share their thoughts through an online comment form. 
The Ayd Mill Road pages include video and comment forms.