Department History
Background

Emergency Management operated as a division within the Saint Paul Fire Department until April 2007. Since then, the need to establish this function as an independent department has been identified, and steps were taken to formally create the Saint Paul Department of Emergency Management. On October 26, 2007 the City of Saint Paul Department of Emergency Management became an independent department.
New Department, New Logo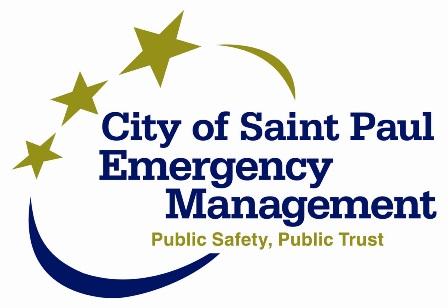 The blue and gold ellipse-shaped ring represents the cyclical approach to comprehensive Emergency Management and Homeland Security.The two colors of the ellipse symbolize the two primary "roots" of the new department: Terrorism-focused homeland security programs and Disaster-focused functions of traditional Emergency Management. The encircling effect of the background shape reflects the department's continuation of an "all-hazards" approach that addresses disasters and emergencies resulting from natural, technological, man-made, or terrorism origins.The three stars represent the Local, State, and Federal partnerships active in supporting and enhancing Emergency Management and Homeland Security efforts nationwide.The motto "Public Safety, Public Trust" reflects the public safety roots and the priority focus of Emergency Management and Homeland Security functions. It also reflects the obligation and desire to promote and enhance community outreach, involvement, and confidence. The Department of Emergency Management looks forward to continually serving the residents of Saint Paul, the most livable city in America.