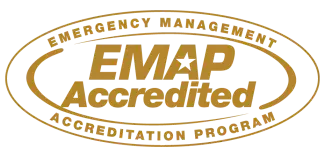 EMAP Accredited
The City of Saint Paul has completed its Emergency Management Accreditation Program (EMAP) review and is compliant with all 64 Emergency Management industry standards. This accreditation is one that only a handful of cities in the country claim. The City of Saint Paul was first accredited in 2017 and was reissued accreditation in 2023.
Why does accreditation matter?
Emergency management accreditation represents a significant achievement. Accreditation recognizes the ability of programs to bring together personnel, resources, and communications from various agencies and organizations in preparation for and in response to any disaster. Achieving accreditation and yearly reaccreditation show Saint Paul's dedication to the safety and security of all residents that it represents.
How does a city become accredited?
Providing emergency management programs the opportunity to be evaluated and recognized for compliance with standards certified by the American National Standard Institute and recognized by the industry complies with the EMAP's mission to build safer communities through credible standards of excellence.
To achieve accreditation, applicants must demonstrate through self-assessment, documentation and peer assessment verification that its program meets the 64 industry-recognized standards and a peer-review, on-site assessment by a team of EMAP-trained assessors. The emergency management program uses the accreditation to prove the capabilities of their disaster preparedness and response systems.
Accreditation is valid for five years and the program must maintain compliance with the Emergency Management Standard and is reassessed to maintain accredited status. Cities achieving consecutive accreditation prove that they adhere to the Emergency Management Standard.
Learn more about the Emergency Management Accreditation Program.