Administrative Services
Overview
In today's office, we see a continuous rise in demanding tasks assigned to support staff. Aside from routine day-to-day clerical responsibilities, the Saint Paul Fire Department support personnel also provide managers with research and data analysis that aid our administration in making informed decisions and future plans.
10 members support 13 units within the Fire Department. Many are long-time employees with valuable experience which enhances our operations. Incorporating project management procedures, time management measures, proficient computer skills, and minute-taking expertise intensifies our roles as significant team players in this organization.
Customer Service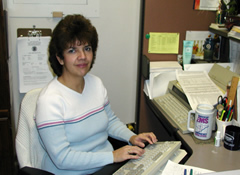 Secretary to Fire Chief Josette Bradley
We take pride in our customer service delivery. Often the support staff is the first point of contact for the public. We serve our customers with care, skill, and genuine concern. Positive and effective communication skills are emphasized as a priority. We put these skills into practice daily to ensure successful customer interactions, both internal and external.
The entire department greatly benefits from the timely, efficient, and professional achievements of the support staff working together on the basis of complementing abilities.
Overview
This division is responsible for:
Assisting internal and external customers
Overseeing total quality improvements that affect citizens and department members
Labor relations
Recruiting
Promotional testing
Selection of firefighters
Creating a diverse workforce that resembles the community we serve
Promoting:

Positive working relationships
Positive relations with the public
Understanding of the various backgrounds of our members
Services provided to department members include :
Stress management / prevention programs
Fitness / wellness programs
Diversity awareness training
How We Create a Better Work Environment
We recognize the large pool of young people in Saint Paul who have the potential for successful careers as firefighters, paramedics, and inspectors. We are making inroads with Saint Paul Schools, encouraging students to consider these careers and to plan their studies accordingly. The City's Human Rights & Equal Economic Opportunity and Human Resources Department assists us in our recruitment and selection efforts.
We emphasize behavioral skills which promote cooperation in the workplace by acting as liaisons to employees who may need assistance in seeking solutions to problems they are experiencing within the workplace or off the job.
We work closely with the City's Labor Relations Division to interpret and implement 22 different labor contracts from which our employees are represented. Coordination of grievances, discipline actions, and labor negotiations are handled here.
​