Job Feature: Public Works Technician III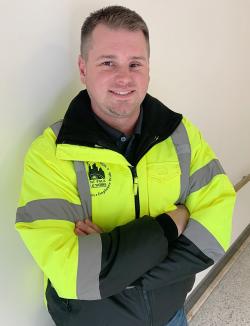 Michael V - Engineering Tech Supervisor 
Q: How do you support the mission of your organization?
MV: My role is to ensure that City infrastructure is installed correctly on street construction projects and are upheld to City, State, and Federal standards and regulations. Upholding these standards guarantees longevity of city infrastructure for years to come. As Street Construction Inspectors, we certify, test and document to ensure that everything is restored and updated properly to governing standards.
Q: What skills or abilities are essential to being successful in your job?
MV: Communication and organizational skills are a big one.  As Inspectors, we represent all residents and businesses in Saint Paul. There will be disruption in their lives with contractors working on the roads and replacing city infrastructure. For us, we try to make sure that there is minimal impact by communicating things that are happening within city construction projects.
When planning for any construction related projects, there are a lot of moving pieces. As we prepare to plan these projects, we also coordinate with other jurisdictions, City departments, utility contractors (century Link, Xcel, etc.), and all involved parties. We try to minimize delays on projects, so organization and communication is critical in the execution and completion of all projects.
Q: What do you love about your job or profession?
MV: I like that this field is evolving and that technology is being implemented more in our everyday work. I also like the variety in the work I do and enjoy seeing the final products. It's amazing seeing the residents turn 180 degrees; from being very resistant on a certain project to "oh wow, this looks great!". The finished product really turns people around; residents and business owners are appreciative of the completed project. Not only with the completed project but also the fact that another project like this won't need to be redone for another 60 years. It's truly amazing. At the end of the day, it feels good because I've had the opportunity to work with a lot of different people.
Now accepting applications for the Public Works Technician III. To learn more and to apply, click here. Applications close 3/25/2020 4:30 PM Central.